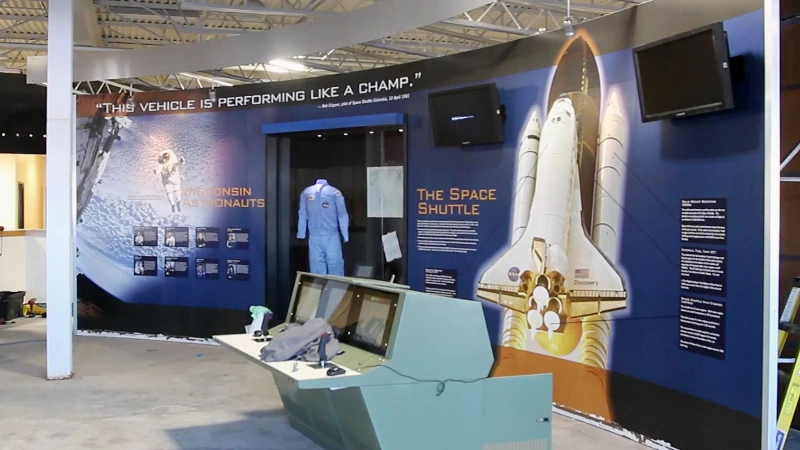 by Desteny Alvarez, age 17
It is a science tourism attraction, and it's right here in Wisconsin!
Among its many tourism destinations, eastern Wisconsin is home to a National Maritime Sanctuary along Wisconsin's Lake Michigan shoreline. This area includes the cities of Manitowoc, Port Washington, and Sheboygan.
Back in 2008, a report by the Wisconsin Historical Society encouraged study of the mid-Lake Michigan region (covering about 875 square miles of Lake Michigan). It designated the area to be studied by maritime specialists. This meant the region quickly became a premier site for science and technology education.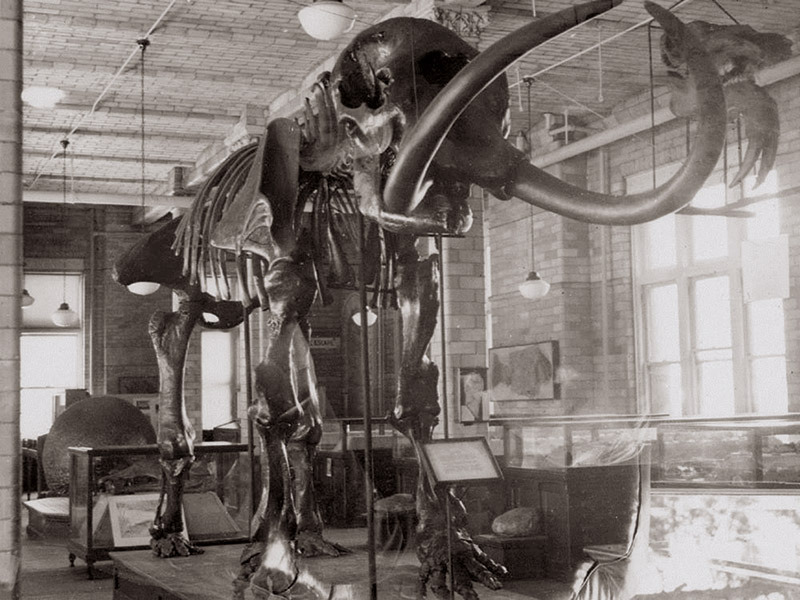 by Anissa Attidekou, age 12

The Boaz mastodon is a fossil of a mastodon discovered near Boaz, Wisconsin in 1897. A mastodon is an elephant but harrier. A spear made of stone found near the Boaz mastodon shows that humans once hunted the mastodon. They lived in North America, Asia, and Africa, during the Ice Age. During the last Ice Age, many giants like the mastodon and mammoth roamed Wisconsin.

The fossil of the great mastodon is on display at the University of Wisconsin Geology Museum in Madison. For a long period of time, the mastodon was thought to be a complete individual, but in 2015 it was discovered after much research that two bones from the so-called Boaz mastodon were conjoined together with bones from a different individual. The University of Wisconsin Geology also found a very old handwritten note stating that this might not be a mastodon at all, but a mammoth. After two long years of research it was clear. The Boaz mastodon was a combination of two different animals.

The Boaz mastodon was named after a small village in Richland County. Where young boys found the fossil of the Boaz mastodon in 1897. It was reassembled by scientists later on in 1915. The Boaz mastodon was later named in honor of the boy's village Boaz Wisconsin. [read more]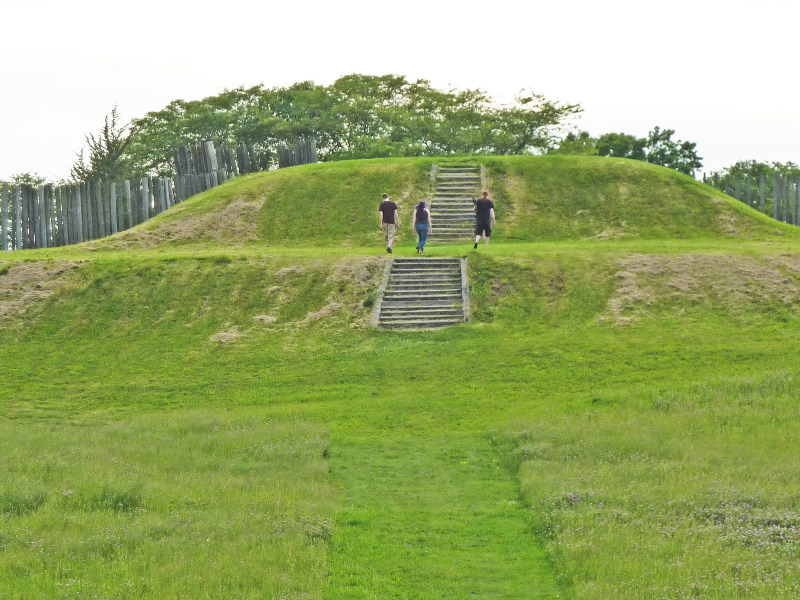 by Eleanor Pleasnick, age 13
Most people know that there are ruins of ancient cities and towns all over the world. Even Wisconsin has them, and Aztalan is one of the most famous ancient sites in our state. Aztalan is also the largest historical site in Wisconsin.
You can find the ancient remains of Aztalan, which is now a Wisconsin State Park, about 30 miles east of Madison and approximately 50 miles west of Milwaukee. This area, now known as the northernmost tip of land that was occupied by the ancient Mississipians, is close to both the small town of Lake Mills and the Crawfish River.
The Middle Mississippian people originally migrated to Aztalan around 1100 A.D. Archeologists have found many cultural remains in the area. By studying the evidence, archeologists believe that people migrated to Aztalan from a large Mississippian city called Cahokia, located in an area that is now Illinois. The remains at Cahokia and at Aztalan show many similarities, which has led archaeologists to make this connection. [read more]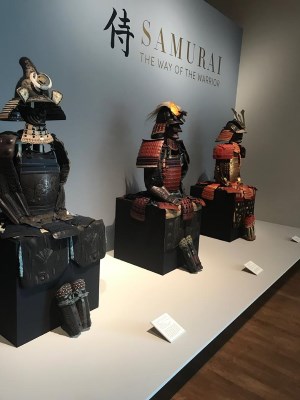 Free Press Reporters Journey Through Layers of Japanese Culture at the Chazen's "Samurai: The Way of the Warrior" Exhibit
by Hugo Gonzalez Koop, age 17 and Sharon Ruiz, age 14
Rulers of Japan for almost 700 years, the Samurai warriors established an impressive legacy, one that continues to astound many to this day. Recently, SSFP staff and students had the opportunity to delve into the fascinating history of Samurai warriors at the Chazen Museum of Art's stunning "Samurai: The Way of the Warrior" exhibit.
Supported in part by the Wisconsin Arts Board, the State of Wisconsin, the National Endowment for the Arts, and the Kikkoman Foods Foundation, Inc., the exhibit is one we anticipated for weeks. Organized by Contemporanea Progetti SRL with the Museo Stibbert, Florence, Italy, it boasts a collection of more than 90 items from important collections of Japanese arms and armor from areas surrounding Japan. [read more]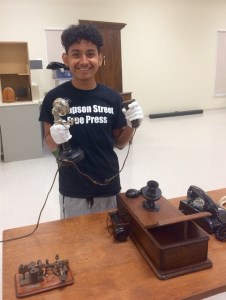 In Storage at the Driftless Historium & Mount Horeb Area Historical Society: The Telephone Through the Ages
by Cristian Cruz, age 15 and Valeria Moreno Lopez, age 10
In the 21st century, the world is at our fingertips. Smartphones provide the answers to any question imaginable in just a few seconds. These pocket-sized devices also allow users to connect with others almost anytime, anywhere. Yet while we may take them for granted, smartphones didn't always exist: inventors worked through decades of design to bring us the modern phone we have today.
This is exactly what Simpson Street Free Press students learned while at the Driftless Historium & Mount Horeb Area Historical Society. On a tour of the fantastic new Historium, our guide Johnna Buysse showed us the museum's main storage space, which sits a floor above its main exhibits. [read more]
Simpson Street Students Explore Decades of Local History at the New Driftless Historium & Mount Horeb Area Historical Society
by Jospeha Da Costa, age 12 and Abigail Luna, age 15
We met at our South Towne newsroom early one Wednesday morning—most of us with droopy eyes and tired faces. It was early, but we were excited for the day's adventure: we were headed westward toward Mount Horeb to visit the village's new Driftless Historium & Mount Horeb Area Historical Society.
The Driftless Historium is kind of new. It opened on June 3, 2017. Located in the heart of Mt. Horeb, the space has a served a number of purposes over the years, from bowling alley to restaurant and hardware store to hotel. Today, it is a unique cultural destination with exhibits that explore the history of Mt. Horeb and surrounding areas of western Dane County. [read more]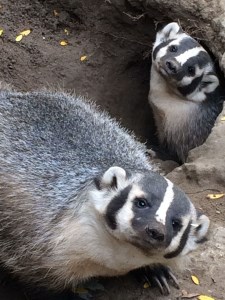 Henry Vilas Zoo's Wisconsin Heritage Exhibit Boasts Three Badgers, State Pride
by Kadjata Bah, age 12
A new exhibit recently opened to the public at Henry Vilas Zoo. The exhibit celebrates Wisconsin history and the creatures who are the face behind it all—badgers.
Hoping to celebrate our state and its rich culture, Dane County officials, Henry Vilas Zoo, and the University of Wisconsin-Madison sought to raise funds to build a better home for the zoo's badgers. Fundraising efforts ultimately collected the required $650,000 to build what is now the Wisconsin Heritage Exhibit, which replaced the original exhibit that was first built in the 1990s. George and Pam Hamel of California-based Hamel Family Wines, two UW alums themselves, donated $125,000 to the project too. [read more]
Recent Wisconsin Museum Series Articles