How Burlington Became the "Chocolate City"

by Patricia Cazares, age 12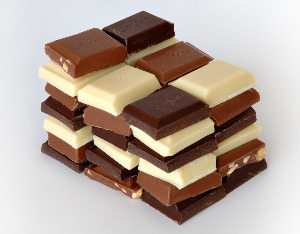 The city of Burlington, nestled in southeastern Wisconsin, has been known as Chocolate City, U.S.A. for 44 years. In 1966, Nestlé opened a factory in the city to supply the increasing demand for its products in the Midwest. The city quickly embraced its new company. It adopted the sweet new nickname along with a new city mascot, Morsel the Moose.
The Nestlé Corporation began in 1875 in the town of Vevey, Switzerland. Daniel Peter and Henri Nestlé invented a new recipe for mouth-watering milk chocolate. They soon found the popularity of their confections growing. Because of high demand for its candies in the country, Nestlé opened its first American plant in Fulton, New York. This was 66 years prior to the opening of their Burlington plant.
The city of Burlington shows pride in its chocolate heritage, housing a quaint but thorough chocolate museum inside their Chamber of Commerce. The museum contains chocolate creations of all sizes, from 6-foot tall knights, to mini teacups. The focal point of the museum, set atop a doghouse overflowing with Nestlé treats such as Crunch, 100,000 Grand, and Baby Ruth, is Farfel the dog: Nestlé's mascot until 1973. The museum opened in 1987, also the birth year of the city's first chocolate festival.
This festival is held every year on Memorial Day weekend. Afterwards, the museum acquires pieces of memorabilia from that year's festival to add to its chocolate collection.
This tradition continues to thrive each year. As Burlington's history grows, so will its reputation for being "Chocolate City, U.S.A."

[Source: www.burlingtononchamber.org]