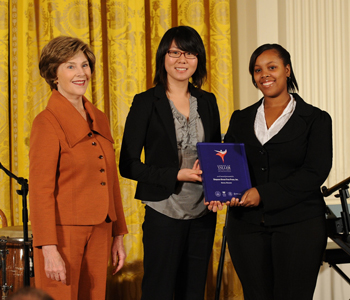 Who We Are:



The Simpson Street Free Press is an organization built on ideas and innovation. We employ a streamlined and efficient non-profit model. Our student reporters learn practical academic skills, which they can readily apply in the classroom. But much more is accomplished with every new stroke at their keyboard. Free Press writers are also authentic, local role models. Their influential young voices resonate far beyond their south-side newsroom. Our dedicated students reach thousands of their peers with positive messages of academic success. This is our multi-mission service-delivery model at work. Young people learning practical skills in proven, hands on ways, and then publishing written work that fascinates and inspires their peers.




The multi-mission approach of the Simpson Street Free Press:





Mission #1-Provide a challenging academic experience for our teen writing staff.


Simpson Street Free Press students develop precisely the sort of skills they will need to do well in school, get into college, and get good jobs. Intensive academic lesson plans are the backbone of all Free Press programs. Lesson plans are executed by a professional teaching staff in an authentic newsroom atmosphere. We teach across the curriculum. Our writers learn to pull out main ideas, write strong lead sentences, and organize their writing effectively. They study history, geography, science, and the arts while practicing the basics: writing, reading, researching, critical thinking, and using computers. They revise each article many times prior to publication. Our reporters acquire practical academic skills that they can quickly apply at school.



Mission #2-Spread a positive message of youth achievement, academic success, and community service throughout the surrounding area.


The student writers of the Simpson Street Free Press are well known and very influential among their peers. They are role models in the truest sense of the term. Drugs and alcohol, school violence, and a minority achievement gap are part of life for many kids today. Free Press teens lead their peers in a different direction. Our reporters spread powerful messages of achievement and success, and they do so on a mass scale. There is no minority achievement gap at the Simpson Street Free Press. Achievement can be, and is, for all kids. From our south side newsroom, tomorrow's community leaders are spreading positive and timely messages today.





Teaching Philosophy:



It is our proven, evidence-based, core curriculum teaching methods that makes Simpson Street Free Press programs so effective. Across the country, leaders search for innovative ways to promote achievement and engage young people in civic life. We accomplish both these goals in the Free Press newsroom. Students enrolled in our programs learn practical academic skills. We use proven methods with an emphasis on the basics: writing, reading, core academics, and using technology. Our lesson plans are based on an education strategy known as writing across the curriculum. Students learn science, history, geography, and the arts through the process of writing. All lesson plans encourage proper planning, outlining, and multiple rounds of revision. In fact, what you read in our paper is usually the ninth or tenth draft of a student's work. We believe, that when it comes to writing, the most important learning happens during the revision process. Our young journalists learn to research and think critically, then write and revise. Of course they also learn to use the power of the pen to spread positive messages of academic success. Nothing builds academic self-confidence faster than learning write well, and then seeing your work published.




Awards:



Wisconsin's own Simpson Street Free Press is now officially designated "one of America's best and most innovative youth programs." The Simpson Street Free Press is a winner of the 2008-2009 National Coming Up Taller award. This prestigious award was presented to our organization by the President's Committee on the Arts and Humanities, the National Endowment for the Arts and the National Endowment for the Humanities. Committee members closely examined SSFP curriculum methods and cited the Free Press for a "thoroughly innovative approach to community-based youth programming."

The Free Press has also been recognized by the UW System for its innovative approach to science learning, winning prestigious Space Grant Awards in 2008, 2009, and 2010. Executive director, Jim Kramer, is a winner of the Martin J. Wolman Award (Wisconsin State Journal), Joyce Erdman Award (The Capital Times), and the Local Soldier Award (NAACP). The Simpson Street Free Press has been recognized for excellence in youth programming by the Madison Kiwanis, the Madison Civics Club, and the Wisconsin Telemedia Institute.




Organization History:



From humble beginnings as a small neighborhood newspaper and after-school academic program based in south Madison, the Free Press has grown into an impressive example of innovative non-profit strategies at work. We published our first issue in April of 1992. The first print run was 1,000 copies. In those days it was a dozen kids, a few sharp pencils, and one computer in the back room of the Broadway-Simpson Neighborhood Center. But it was quickly evident that our brand of academic training was cool and fun. Local kids flocked to our newsroom and circulation soared. By emphasizing revision in the writing process, we were able to show our students how easy it is to learn to write well. They learned quickly. Soon we also learned that dinosaurs and space ships on the front page sell newspapers. This worked well for us because we wrote often about core curriculum subjects like science, geography, the arts, and local history. As our popularity grew, we hired more writers. Circulation grew some more, and in 1996 we soon moved across the street to South Towne Mall. Today there are 45 student reporters on our writing staff. About half are in middle school, half in high school. While we continue to draw many of our students from our home neighborhoods in south Madison, hundreds of local kids from all around Dane County have worked for our paper. About 92% of program grads go on to college. And many return to the Free Press to work as teachers and editors. Overall circulation now exceeds 20,000. We are distributed at hundreds of sites around southern Wisconsin, including over 80 schools, and we publish curriculum guides with every issue to assist teachers who use our newspaper as a classroom tool.




Circulation:



The Simpson Street Free Press employs a multi-mission approach that makes maximum use of our community's charitable dollars. Put differently, we go beyond intensive academic training. Simpson Street Free Press circulation has grown steadily over the years and now stands at about 22,000 per issue. About 7,000 copies of each issue are distributed in schools. Free Press reporters are also well-known local role models. Their words make a difference in our community. The articles they work so hard to create are full of powerful messages for young people. This emphasis on young people influencing their peers through journalism is efficient and effective. The student writers of the Free Press reach their peers on a mass scale, and their messages resonate in schools and neighborhoods across our community.