We (Almost) Never Get Lost

by Claire Miller, age 18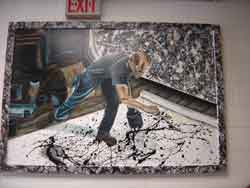 We awoke early on a cool and misty morning. We wanted to get an early start and prepare for the events about to unfold. Pencils, check; notebooks, check; business cards, check; clipboards, check; bundle of our latest newspapers, check. We were ready.
All that was left now was to lock up the newsroom and head out. It was here that we hit our first hurdle. Our keys decided to stop functioning. Three phone calls and fifteen minutes later we had the Free Press newsroom locked from the inside and left out the back door. It was 8 am. Already 30 minutes behind schedule, and we were barely out of the parking lot.
Things were not looking up for us. On the bright side of things, we had a Tupperware container full of delicious home-baked chocolate chip cookies made by our senior teen editor, Hailey Alfred. Hailey was our driver for the trip. There she sat in the front seat with science editor Stephanie Sykes to her right. Columnist and teen editor Adaeze Okoli and I were in the back seat. This group is fondly referred to as the "A-team" around our office. It was going to be an exciting trip. We were also determined to have fun on our two-day excursion.
Our first job was to drive up to Sheboygan at 7:30 in the morning to accept an award on behalf of the Simpson Street Free Press. The annual Wisconsin Space Grant Consortium conference was held in Sheboygan this year. At the conference our organization was again recognized for "innovative approaches to science learning." We also planned to tour the John Michael Kohler Arts Center. We knew this visit would give our Museum Series section a little more oomph. Our drive to Sheboygan turned into a two-hour picturesque daze. Fresh Wisconsin air wafted in the breeze, seemingly endless fields of corn and farmland rolled on and on for miles. We were lost. Or at least we thought we were.
Then we remembered another thing we always say at the Free Press: We're never lost, but occasionally we are temporarily unsure of our current location.
Our handy-dandy GPS kept randomly losing its signal as we continued north, rerouting us every few minutes, taking us down ever more scenic roads. Luckily we brought maps and our handy-dandy Wisconsin Atlas and Gazetteer. Then we saw it. The bright green sign read "SHEBOYGAN COUNTY." Apparently we weren't completely lost.
Soon enough we rolled into town and found our way into the Kohler Arts Center: a spacious structure with fantastic art exhibits and splendiferous bathrooms. Our tour guide met us at the door and took us through the current exhibit.
The exhibit is called A Sense of Humor, and it explores just that. It is a series of contemporary pieces, made mostly by Wisconsin artists. These works describe the many different things that make people laugh.
Here we saw massive paintings in photo-realistic style, video footage on a loop of a laugh-therapy session, toile-embroidered pillows re-stitched with colorful and vivid details, a very large animatronic sock-puppet on a 12-minute audio loop and much more.
"Mr. Weekend," as this massive puppet once refers to himself, was made from the robotic arm of a closed down car factory. This work of contemporary art essentially plays the part of a displaced factory worker in a dark and witty manner.
The interesting space in which the exhibit is displayed adds much to the show. It was very open and welcoming. It was designed to be a place where people would feel comfortable exploring and laughing out loud at the experience. We certainly did.
One very interactive part of the exhibit was a cardboard floor with flip-flops cut out in all sorts of shoe sizes entitled Flip-Flop Floor. Created by Mads Lynnerup, this mixed media installation invites museum-goers to take off their shoes, step onto the cardboard floor, find a pair that fits, and take it home!
The Kohler Arts Center is always an amazing experience. I recommend to anyone that they make a trip to this fascinating museum. The center is open Mondays, Wednesdays and Fridays 10:00 a.m. - 5:00 p.m.; Tuesdays and Thursdays 10:00 a.m. - 8:00 p.m.; and Saturdays and Sundays from 10:00 a.m. - 4:00 p.m. For more information on current and upcoming exhibits go to www.jmkac.org.