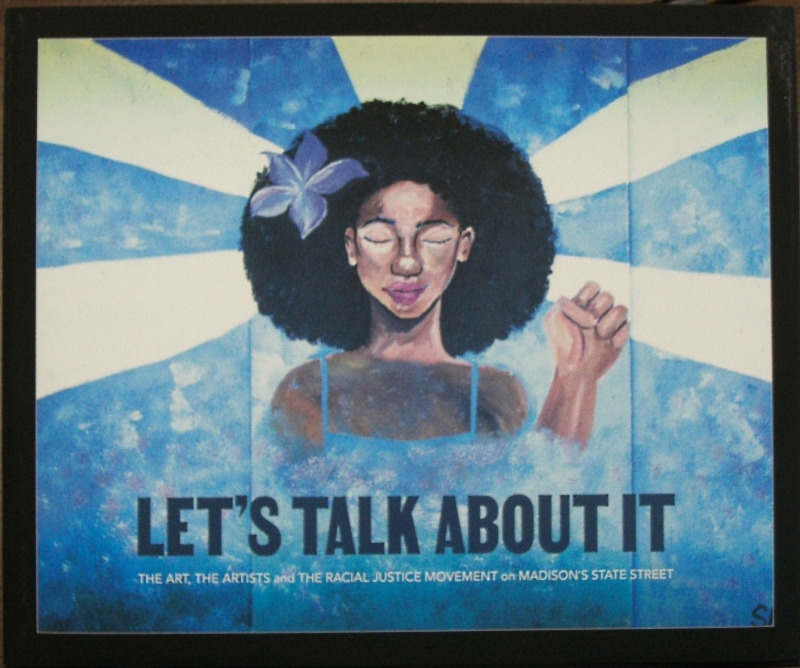 Book Review: Let ' s Talk About It: The Art, the Artists and the Racial Justice Movement on Madison's State Street
Reviewed by Yani Thoronka
Following the death of George Floyd and other killings of unarmed black people, artists in the Madison community came together to show their allegiance and solidarity to the Black Lives Matter movement. Their allyship was demonstrated through a series of murals, which lined State Street. These murals were painted on long, wooden boards that covered the windows of shops and other buildings from the State Capitol to Library Mall.
But as stores slowly began to open for business, the murals were taken down. To help preserve this local artwork, the American Family Insurance Institute for Corporate and Social Impact published a book. This new book is titled Let's Talk About It , which is a collection of more than 100 works of art completed this past summer. The book is a coordinated effort by American Family in collaboration with local photographers, participating artists, and Black leaders to create something beautiful and inspiring despite the harsh reality of this grim subject.
Nyra Jordan, the social impact investment director at American Family Insurance, said she is honored to be "a part of telling the story of extraordinary people doing extraordinary things."
Jordan says covering heavy and complex issues like the Black Lives Matter movement is important. "There are individuals that have so many feelings and emotions from anger to frustration to hope and love," she says.
"The key is we need to come together and talk about it. So, we're hoping this book is a catalyst to bring all stakeholders together to have the conversations on how we can come together as a community, how do we start to heal the wounds and how do we start to have discussions around a topic that means so much to so many different people?"
"Let's Talk About It" is a book with an uplifting feel. It has encouraged young people like me to begin conversations, talk together about difficult topics, and find opportunities for change.
I, myself, was honored to make a contribution to the movement, through an opportunity presented by Drum Power, a youth organization run by Yorel Lashley. My artwork served as a positive outlet for me to convey my emotions regarding Black Lives Matter, and the personal impact it has had on me and my outlook on life.
One of many great experiences I will cherish was meeting other Black artists in the community; creative people I would otherwise not have met. We worked in a family-like environment, where the atmosphere was welcoming and friendly. We were able to talk about our pieces and the meanings behind them, which served as a way to release emotions stemming from facing a dim reality: living as a Black person in America.
Nyra Jordan of American Family also sees the book project as a way to share her personal experience "as a Black woman in this community and raising a Black son." She stressed the positive personal impact she hopes "the book and the movement" will have in the lives of Madison residents.