Chocolate City, USA

A Road Trip to Burlington, Wisconsin Yields Many Tasty Treats

by Claire Miller, age 18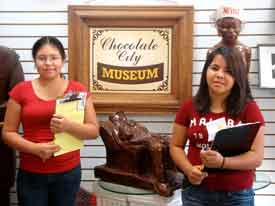 In a recent readers' poll conducted at www.simpsonstreetfreepress.org our loyal audience decided they wanted us to visit a chocolate museum. So, we awoke bright and early one morning to begin our two-hour journey to the Chocolate Experience Museum in "Chocolate City, USA": Burlington, Wisconsin.
On East Chestnut Street, near the Burlington Area Chamber of Commerce, lies the Chocolate Museum. It is a humble building always kept at a nice cool temperature. We were greeted by the very subtle scent of milk chocolate. There we learned about the history of the city, its chocolate festival, and the Nestlé Corporation.
The museum was generously decorated with Nestlé paraphernalia. Old-fashioned candy from around the world, scrumptious sculptures that, unfortunately, were no longer edible, and framed front pages from the local newspaper covering the chocolate festival over the years.
They have been making chocolate at this factory for more than 40 years. It still remains one of Burlington's largest employers. In honor of this, a chocolate festival was started in 1986. It has been celebrated every Memorial Day weekend since then.
As part of the festival, a theme is chosen every year and a chocolate sculpture to embody it is created. At the end of every year's festivities, the museum collects some of the pieces. To keep these creations from melting, they are coated in clear shellac. This essentially preserves the chocolate forever, but also makes it inedible. But don't worry chocolate fans! There are plenty of tasty treats to sample at this museum. And plenty of interesting and whimsical things to see.
Among the chocolate sculptures held within the museum are two six-foot tall knights. That's right, two six-foot tall chocolate sculptures. We also viewed one of the many solid chocolate carousel horses, acquired from a working carousel at last year's festival. We also saw a grand aquatic display of fish, that were bejeweled with colorful Nestle candies, and a miniature teaparty display befitting a theme from Lewis Carroll's classic book, Alice's Adventures in Wonderland.
During our tour, we were introduced to Farfel: the very large, googly-eyed animatronic dog, formerly Nestlé's number one mascot. Farfel sat atop a large doghouse that had Nestle candy spilling out from its entrance. Strangely enough, Farfel taught us quite a bit about how Burlington came to be known as "Chocolate City, USA." Farfel was donated to the Burlington Chocolate Museum from the Nestlé factory in Glendale, California. It was in 1973 that the Nesquik Bunny we know today replaced Farfel as the company's mascot.
Unfortunately, the Nestlé plant in Burlington has stopped doing tours, but the Chocolate Experience Museum is open daily. For more information on this sweet haven of information, go to www.burlingtonchamber.org or search Chocolate City, USA.
We enjoyed our trip and found this museum unique. The trip did very well in our readers' poll as well. And it seemed, for some reason, that many of the younger Free Press reporters wanted this assignment. So we brought back an assortment of chocolate treats.