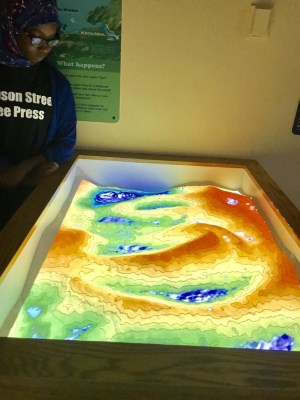 Recently, a sandbox was installed at the Henry Vilas Zoo. But it's not just any sandbox. It is an Augmented Reality (AR) sandbox that simulates topographic features and water systems to teach people about watersheds. The Dane County Land and Water Resources Department and the Henry Vilas Zoo partnered to construct this educational model for all ages to view.
A watershed is a piece of land that drains precipitation into a body of water. The exhibit at Vilas will help residents of Madison to understand how watersheds work and where water goes when it runs off their yards and driveways. In urban areas, this water runs off into storm drains that empty directly into local lakes and streams, carrying with it any nutrients or pollutants it picks up along the way.
The AR Sandbox model was initially created by University of California Davis's W.M. Keck Center for Active Visualization in the Earth Sciences (KeckCAVES) in collaboration with the UC-Davis Tahoe Environmental Research Center, Lawrence Hall of Science in California, and the ECHO Lake Aquarium and Science Center in Vermont. Its software uses real-time projected graphics including an elevation color map, topographic contour lines, and simulated water on sand that can be moved and shaped into an endless array of different landscapes.
The Dane County Land and Water Resources Department wanted to establish a watershed model in the Madison area based off the one at UC-Davis. Susan Sandford, Strategic Engagement Coordinator of the Dane County Office of Lakes and Watersheds, discovered a version of the Sandbox at the Indian Creek Nature Center in Iowa. Sandford then introduced the idea to the Henry Vilas Zoo, and a partnership between the Land and Water Resources Department and the Zoo formed. The Sandbox's software was free, but constructing the model and getting it up and running required knowledgeable people and was truly a joint effort between three Dane County Departments.
While the Zoo worked to build the sandbox structure, the The Dane County Land and Water Resources Department developed educational signage, which will also be available in Spanish and Hmong by the end of the summer, and Dan Seiler, an computer network specialist with the Dane County Division of Information Management, worked to get the technological components ready. The software cannot run on Mac or Windows and can only function on Linux systems. A projector and a camera had to be synchronized and configured with the software in order to project the topographic image and make it responsive to changes in the sandbox landscape.
AR sandboxes are now used all over the world to teach children and adults about ecosystems and hydrology. This hands-on learning experience is another step in educating local communities about watersheds and about how humans can protect and preserve the Earth's water. Dane County residents can learn more about how to protect and improve water quality at www.ripple-effects.com .
"We just couldn't believe it's there, it works, it looks great," said Seiler.
I, for one, thought it was amazing to see and very educational.