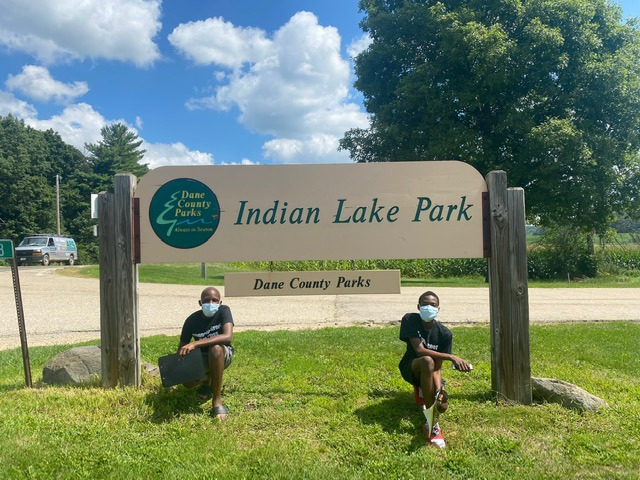 Expansion and Restoration Enhance One of Dane County's Most Popular Parks
by Desteny Alvarez, age 16
There are many good reasons to visit Indian Lake County Park. Located north of Madison just off Highway 19, it's well worth the short drive. This park offers hiking trails, fishing, a play area for children, and a picnic area. During our recent visit, we also noticed that Indian Lake includes a very nice off-leash dog park. All and all, it is a perfect destination for a family outing.
At about 500 acres, Indian Lake County Park is one of the larger parks in the Dane County system. And the park is scheduled to expand soon. Last fall, Dane County Board members authorized the purchase of 296 additional acres at Indian Lake.
"Indian Lake County Park is one of Dane County's most popular parks, and it has seen even more visitors this year as a result of more people heading outdoors during the COVID-19 pandemic," County Executive, Joe Parisi, said when the purchase was announced.
The county hopes to use money from the Dane County Conservation Fund to help purchase the additional land at Indian Lake . The Wisconsin State Journal reported that the planned expansion at the park would bring Indian Lake County Park to nearly 800 total acres.
Part of Wisconsin's Ice Age Trail runs through or next to Indian Lake Park and access points for the trail are located near the park. The Ice Age trail travels through 30 Wisconsin counties. But this part of our state and northern Dane County is particularly beautiful with its wooded hillsides and natural prairies.
Eight students from Simpson Street Free Press recently took a field trip to Indian Lake County Park. Some of us had visited the park before. But for most, it was our first time. One take away for us is that this is a big place. But it's easy to get around and there are lots of trails to explore.
For us, one of the most interesting features at the park was a small stone chapel originally build in 1857. A well-marked trail winds through the woods to the chapel. We had read about this building before our visit to Indian Lake, and finding this little gem felt like an adventure and a discovery for us.
A historical marker tells the story of why John and Peter Endres built the chapel and how they used oxen to "haul several tons of stone to the hilltop."
Simpson Street Free Press students have written about oak savannah restoration several times in the past. One excellent example of these restoration projects continues to take place at Indian Lake County Park. Friends of Indian Lake County Park and Dane County Parks staff collaborate on these efforts at Indian Lake.
So far, about six acres of oak woodland and about 20 acres of natural prairie have been restored at the park. In addition, restoration on another four acres of oak savanna is happening during 2021. Part of the project includes fire. Volunteers and staff use controlled burns to get rid of invasive plants and help native plants reestablish themselves. When you visit Indian Lake, you can clearly see where this work is taking place and why this kind of planning and management is important for the future of the park.
Oak savanna landscapes were once very common in Wisconsin. But logging and clearing land for farms drastically reduced oak savannas in our state and in other areas of the Midwest. In more recent years, invasive species such as black locust trees, garlic mustard and honeysuckle have hindered efforts to bring back native vegetation like the shade-tolerant plants that thrive in natural oak savannas.
Perhaps the most important take away from our visit was that Indian Lake County Park offers something for visitors of all ages and plenty of room to roam. And plenty of opportunities for curiosity and exploration.