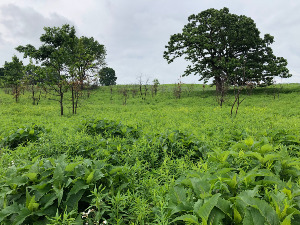 Dane County Parks staff and dedicated volunteers have been working hard to restore the natural landscape at Indian Lake County Park. This effort has improved and enhanced what is certainly one of the most beautiful spots in southern Wisconsin.
Dane County's gorgeous Indian Lake County Park has benefitted over the years from scores of committed volunteers. They have removed less desirable plant and tree species to provide more room for native species to grow and thrive. And, of course, more room for members of the public to enjoy this wonderful place. Just a short drive from Madison, visitors will notice some of the results of this conservation work as soon as they enter the main parking area.
According to the Dane County Parks Department, there was a time when Oak Savanna was one of the most common vegetation types in the upper Midwest. But it is now one of the rarest natural communities on Planet Earth. Today's visitors will notice about four acres of natural Oak Savanna landscape from the parking lot just beyond the park shelter.
But there is much more to see and explore at Indian Lake. In all, volunteers and staff have restored about 30 acres of land, trails, and lakeside. They have restored native woodlands and Oak Savannas and brought prairies back to life. At least 20 acres of beautiful prairies and six acres of woodland have been restored so far. There is also the mysterious looking and abandoned "Matz Farmstead" located at Indian Lake. Various trails connect these places and are easily accessible so that visitors can explore.
One invasive species that has been largely removed at Indian Lake Park is the black locust trees that had been taking over the land. Parks staff chopped down trees and used controlled burns to help get rid of these and other invasive species. Once this process is completed, more restoration work will continue at the park.
All and all, it is a fascinating process that nature lovers will enjoy watching unfold. It is hard work. But it's worth it because the remnants of the scenic prairies and Oak Savanna will grow and flourish once again.
Indian Lake County Park is located in northwestern Dane County and is part of Wisconsin's beautiful Driftless Area. This park is a 483-acre piece of paradise. It is only a short drive away and available to the public for free. Anyone who needs a little respite from the COVID-19 pandemic will find it an easy and convenient place to practice social distancing. You can hike the trails, watch nature, go fishing, explore the woods, or picnic with friends and family.
And did I mention it's also free for the public?
Dane County's Indian Lake Park is an impressive and important resource for all of us. Perhaps even more so during a pandemic.
[Sources: Wisconsin State Journal; Dane County; Waunakee Tribune]