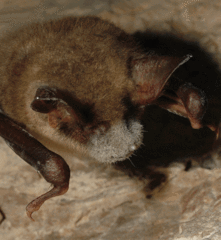 According to the state Department of Natural Resources, Wisconsin is now home to the same fungus that has put millions of bats in the United States and Canada at risk of extinction. This disease, called Pseudogymnoascus, is better known as white-nose syndrome because it causes discoloration of infected bats' noses.
Found in Wisconsin this spring, this disease has spread to 25 states since it was initially discovered near Albany, New York, in 2006. Pseudogymnoascus kills up to 95% of bats in infected caves, barns, and mines.
Currently, Wisconsin is facing the loss of many bat species and their contributions to the ecosystem. Bats eat insects that can damage crops and forests. They also eliminate mosquitoes that may have diseases like West Nile Virus. A recent study by the National Wildlife Health Center estimates that the loss of these insect-suppressing bats could cost farmers $4 billion to $50 billion.
Erin Crain, director of the DNR's Heritage conservation program stated that while this discovery is not surprising, it is unfortunate for Wisconsin. As the bat population declines, increased destruction caused by insects will become a challenge for humans. Farmers especially will feel the pressure to keep their crops safe and their savings secure.
[Source: Wisconsin State Journal]