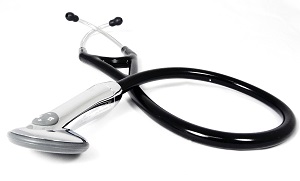 For almost $200, doctors all over the country can upgrade their stethoscopes.
You may have seen or experienced a stethoscope. The device uses insulated tubing to amplify the sounds of the lungs and heart. Eko Core will work within this technology to increase its functionality. Eko Core is inserted into the tubing of a traditional stethoscope. With it, the doctor can use Bluetooth technology to record a patient's heartbeat digitally and transmit it wirelessly into a program such as a smartphone application. Using this device, doctors can also chart heartbeats directly and send automated reports to other specialists for further review. This reduces the need for costly follow-up appointments.
Eko Core may not be the first "smart stethoscope," but it is the first one to connect and transfer a heartbeat recording wirelessly. This makes it easier for doctors to remember a patient's heartbeat for later appointments or to track it from childhood to adulthood.
"[The stethoscope] has been stuck in the analog world,"explained Dr. Charanjit S. Rihal, advisor of the project. He explained that stethoscopes have retained their basic functionality for nearly 200 years, while other medical devices and tools have gone digital. Eko Core could pave the way for greater innovations in the field of cardiology.
"The real value is if engineers can figure out ways to analyze the sounds using algorithms," said Rihal.
Eco Devices, the startup behind Eko Core technology is conducting trials from a heartbeat data pool of 400 people of all ages in two San Francisco hospitals. Information from this analysis will be used to develop a heartbeat functionality application, slotted for FDA-testing in early 2016.
[Source: Money.CNN.com]