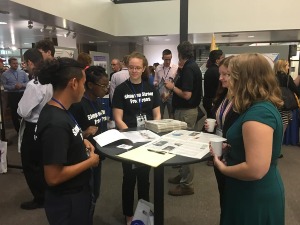 Avid readers of Simpson Street Free Press know we love road trips. We often hit the road with our students, sometimes to visit a museum, a historic landmark, or geographic oddity. Most recently, several Free Press writers and staff were invited to speak at the Wisconsin Space Grant Consortium conference at UW-Platteville.
Simpson Street Free Press reporters, Mariama Bah, Cris Cruz, and myself, accompanied by editor Brandon Alvarez, set off early Thursday morning to attend the conference. After being greeted with the event program and NASA "Swag Bags", we were offered breakfast before getting settled in for introductions. Throughout the morning we enjoyed fascinating presentations from researchers and specialists from institutions all over the state, such as UW-Milwaukee, UW-Madison, UW-Whitewater, and Carthage College.
After the first set of presentations, everyone had the chance to network and exhibit their work. Our team set up at a station and had the opportunity to speak with many people and explain what we do. We continued having such conversations at our table during lunch.
Simpson Street Free Press was scheduled to speak during a breakout session that afternoon. Other speakers in the room included representatives from different aerospace outreach programs and special initiatives programs: Platteville High School made a partnership with NASA to have students create hardware that could be used in the International Space Station, UW-Superior organized a celebration for the 50th Anniversary of the Moon landing, and the Spring Green Community Library incorporated programs focusing on space and STEM for the community, just to mention a few. Each presentation prompted insightful questions and comments.
The Simpson Street Free Press focused on our efforts to encourage young people to consider careers in the STEM fields. We talked about our ongoing "Women in Science and Math" series and getting kids excited about space science. We received positive feedback from the other groups along with the rest of the audience.
The remainder of the conference included another round of presentations, a celebration for the Apollo 50th Anniversary, awardee recognition, all followed by a dinner. We enjoyed the conference and the inspirational and thought-provoking conversations. We are thankful for the opportunity to be present at such an event. We also appreciate the support Simpson Street Free Press receives from the Wisconsin Space Grant Consortium year-round.