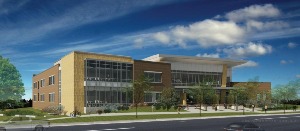 Madison Area Technical College (MATC) first broke ground on the South Side of Madison over a year ago. Now in this coming week, the college's new comprehensive Goodman South campus will open, catering to the needs of MATC's students and the surrounding community.
With costs coming up to about $25 million, the facility is two-stories and 75,000-square-feet. 1,600 students are enrolled; however, the college is expecting more to join them.
Most of these students will hail from the communities around the campus, some of the poorest and most diverse neighborhoods in Madison. MATC had long had a smaller campus on the South Side, but this campus did not include all of the programs needed for one to complete their degree or earn certificates, requiring them to travel to the Truax or Downtown campuses. Two shuttle lines, with one transporting commuters from Goodman South to Truax and another travelling through other communities the Metro bus does not serve, will help with transportation.
Programs at the campus will hone in on healthcare and information technology, in which jobs are currently in high demand.
Replacing the college's Downtown campus as their largest building project, the spacious South Side campus offers livestream classrooms, classes from 7 a.m to nearly 10 at night, and full-time staffing. It also boasts a GED completion center and a free legal clinic for the community. 243 parking spaces will also be available to students and staff.
With a building tailored to community needs, the campus also features four community rooms that, combined, can hold up to 200 people. The halls of the campus are decorated with art from local artists celebrating African American, Latinx, Hmong, and Ho-Chunk culture and history.
MATC's latest venture to make higher education accessible is combining the needs of the people and the students to establish a campus focused on creating connections and ensuring opportunity.
[Source: Wisconsin State Journal]