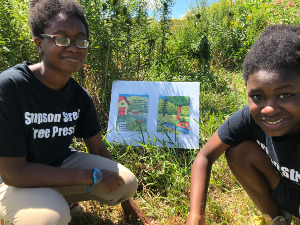 The StoryWalk™ Project was initiated by Anne Ferguson, a chronic disease prevention specialist from Monterpelier, Vermont, in 2007. She wanted to find a way to encourage both kids and adults to be more active, which is very important to chronic illness prevention. She then launched StoryWalk, which is "an innovative and delightful way for children — and adults! — to enjoy reading and the outdoors at the same time." Since 2007, StoryWalk has been installed in 50 states and 12 countries. The latest local installment is here at the Lussier Family Heritage Center in William G. Lunney Lake Farm County Park.
This summer, my siblings and I visited the StoryWalk after biking through Lake Farm County Park. When we arrived at the Lussier Family Heritage Center, we expected to bike on another paved trail to read this month's title. But it turned out that the StoryWalk was actually in a beautiful garden near the Center. The book was "Over in the Meadow" by Jane Cabera, which is based off of the classic children's rhyme of the same name. The staff replace books on the StoryWalk with a fresh title monthly. The Monona Public Library supplies the books. The pages from the books are laminated and posted along the walk.
My sisters and I had a great time reading the pages while observing the nearby flora and fauna. Participating in the StoryWalk is a fantastic way to get families into nature by combining the joy of reading with the outdoors.
In addition to the StoryWalk, Lake Farm County Park offers many different opportunities to have fun while being outdoors. The park is 328 acres, making it a safe place to go while social distancing. It also has campgrounds, playgrounds, an observation tower, and many hiking and cross country ski trails, not to mention two biking/pedestrian trails—the Lower Yahara River Trail and the Capital City Trail, which leads to downtown Madison.
[Source: Kellogg-Hubbard Library, Lussier Family Heritage Center ]