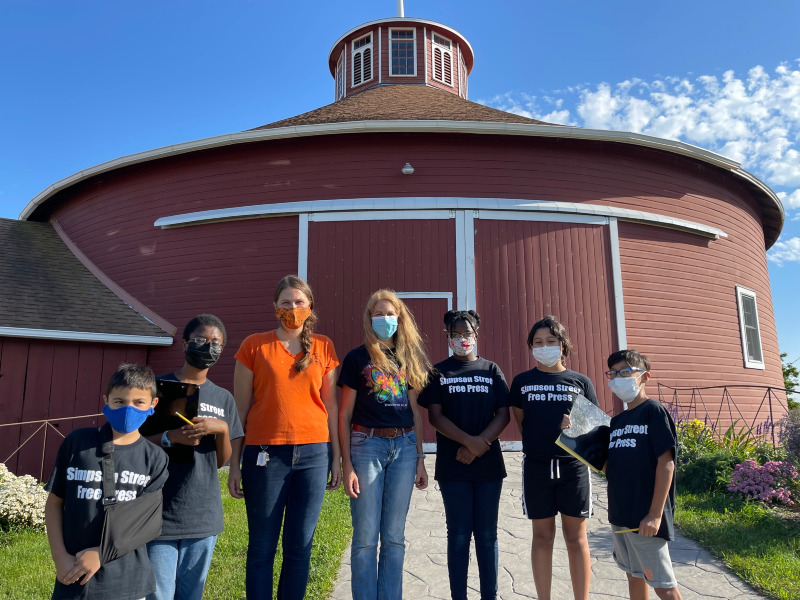 I Had a Blast Exploring Schuster's Farm, and You Can Too!
by Mariama Bah, age 14
Schuster's Farm in Deerfield, Wisconsin is nothing if not family friendly. In fact, this farm and the Schuster family have been providing fall fun for people of all ages in Dane County for many years.
Don and Theresa Schuster, owners of the farm, bought the property in 1990. According to Theresa, Don was a fifth-generation farmer who loved farms and loved what he did. Three years into their marriage, their search for land began. Theresa would drive past and admire the Gangstad farm as she drove to work each morning. At the time, she worked as an occupational therapist for the Madison Metropolitan School District.
That was until one day she saw a "For Sale" sign on the property. Things changed quickly after that. Theresa and Don wasted little time in making a decision. Three days later, the property became Schuster's Farm.
I recently went to Schuster's Farm with several other Simpson Street Free Press student reporters. We had visited the farm's website and watched videos about activities at the farm. So, we were excited and thought we knew what to expect. As it turns out, this farm was everything we expected and so much more.
When we arrived, I instantly noticed the pumpkins and other fall crops for sale. There were some exceptionally large pumpkins which I thought were quite impressive. It occurred to me that this is a great place for families to shop for fall decorations such as pumpkins.
Sarah Schuster, daughter of Don and Theresa and a full-time employee of the farm, greeted us and led us to the farm's main area. There I saw many different play structures and playground-type equipment, all of which were farm themed. While we talked with Sarah, and she explained more about the operation, there was stuff to look at everywhere. It was obvious from the start: this place just begs to be explored--especially by kids.
Among the highlights at Schuster's farm are, of course, animals. Sarah showed us the goats, cows, pigs, llamas, chickens, and kittens. I must say, the goats were really friendly. I really enjoyed feeding them. So did all my Free Press colleagues.
Another highlight was the beautifully restored round barn. If you've never seen a round barn, it's another good reason to visit Schuster's. While there aren't many left today, round barns are part of the history of our state. Early settlers in Wisconsin often built these odd-looking structures because new immigrants copied the barns used in their countries of origin. The Schuster family barn is an excellent example of this type of architecture.
Pumpkins are the Schuster's main crop and they have been for 28 years. After three years of trial and error, Don decided to plant a one-third acre of pumpkins, which proved to be successful. Slowly, over the years, the family added more fall crops and lots of decorations. And they haven't been able to stop since. Today, the Schuster farm has many attractions including their pumpkin patch, a corn maze, the petting zoo, and a haunted forest.
No doubt about it, I had a really great time at Schuster's Farm! As we discussed it on the way home, we all agreed this is a unique place for family fun. It's a great fall destination and only a short drive from any location in Madison or Dane County.
Visitors of all ages will enjoy the variety of activities at Schuster's. The beautiful rural setting helps provide a fun outing for everyone, especially for younger kids who will surely enjoy the petting zoo.
After exploring all the different sights, sounds and activities at the farm, my fellow writers and I agreed on one more thing. We would love to visit the Schuster family and their wonderful farm again.
You can learn more and plan your visit to Schuster's Farm by visiting this link: https://schustersfarm.com