Dane County Explores Multiple Strategies
for Flood Prevention in the Yahara Lakes
by Devika Pal, age 16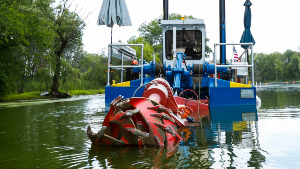 The Yahara river, located in Southern Wisconsin, flows through and connects Lakes Mendota, Monona, Waubesa, and Kegnosa. These lakes are central to life in Madison and Dane County. Early Madison residents built villages and farms surrounding the lakes, and now Madison, with a population of 269,840, is closely linked with these bodies of water.
As Madison has expanded over the years, the lakes have experienced build up due to continual urban runoff. This build up has made it difficult for water to circulate between the lakes. It is estimated that every year about 8.5 million pounds of runoff sediment goes into the Yahara river. After heavy rainfalls, the lake water levels have nowhere else to go except up, causing flooding and hundreds of millions of dollars in damages.
Emily Stanley, a UW-Madison professor in the Department of Integrative Biology and Center for Limnology, described the lake flow like "bathtubs." They have narrow exit points and the sediment from runoff clogs up the low points and prevents effective drainage. Aquatic vegetation and the area's flat landscape can also cause disruption of water flow.
Dams can be used to manage water levels and water circulation. The Department of Natural Resources requires that all dam owners ensure that their dams adhere to specific regulations, in order to minimize the risk of damage by flooding. In response to these requirements, in March of 2021, Dane County purchased a $65,000 Ellicott Dredge with the goal of reducing flooding and improving water flow. The 42-foot-long dredge cleans up the sediment caused by the years of urban runoff. Dane County officials say cleaning the lakes will improve water drainage and flow, and therefore reduce flood damage. This dredge strategy is unique to Wisconsin.
The county hopes to decrease occurrences of flooding from about every 10 years to roughly every 20 years. Joe Parisi, the Dane County executive, stated that the implementation of this new strategy is "the only way we're really going to prevent some of the future type of flooding."
[Sources: The Capital Times ; McFarland Thistle; yaharalakes.org; channel3000.com ]