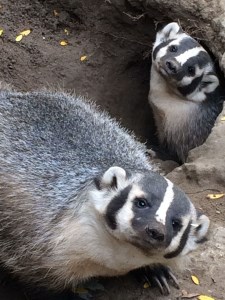 A new exhibit recently opened to the public at Henry Vilas Zoo. The exhibit celebrates Wisconsin history and the creatures who are the face behind it all—badgers.
Hoping to celebrate our state and its rich culture, Dane County officials, Henry Vilas Zoo, and the University of Wisconsin-Madison sought to raise funds to build a better home for the zoo's badgers. Fundraising efforts ultimately collected the required $650,000 to build what is now the Wisconsin Heritage Exhibit, which replaced the original exhibit that was first built in the 1990s. George and Pam Hamel of California-based Hamel Family Wines, two UW alums themselves, donated $125,000 to the project too.
The Wisconsin Heritage Exhibit hosts a new, larger habitat for the badgers with a badger sett, or a den, crawl that allows visitors to get close to the critters. The previous space only permitted visitors aerial views. Moreover, the exhibit—which aims to "Bring Bucky Home" by educating patrons not only about badgers but also about the great state they represent—includes story walls about Wisconsin's past. Additionally, the exhibit introduced a new animal, a rescued sandhill crane, to the zoo. The sandhill crane is another species native to Wisconsin.
Now, three badgers call the new exhibit home. Kaminsky and Dekker, the first two of the three, originally came to Vilas after they were found near Mineral Point road about a year and a half ago by Madison resident Dave Chambers and his son. After naming the animals after former UW basketball stars, Chambers decided to donate them to the local zoo. Bucky, the third and newest badger to join the exhibit, came to Vilas Zoo in the summer of 2016.
The exhibit offers visitors a unique glimpse into the origin of "Bucky Badger" and his rise to state mascot status. Story walls inside of the Exhibit reveal that early Wisconsin lead miners were known to dig holes into hillsides and spent most of their time underground. They soon earned the nickname "Badgers," and this eventually led to the beginning of the Bucky Badger we know today.
The Wisconsin Heritage Exhibit demonstrates to visitors from near and far the importance of the badgers and how they've shaped the history of Wisconsin.
[Sources: madison.com ; wkow.com; Wisconsin State Journal ]