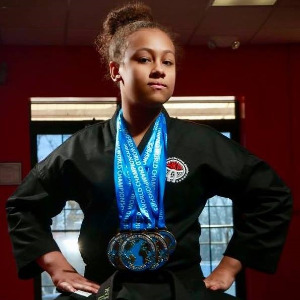 Yoanna Hoskins is an eighth grader at Sennett Middle School and a reporter at Simpson Street Free Press. She is also a karate champion. In September she took part in the WAKO World Championship For Cadets & Juniors in Jesolo, Italy, and came home with a bronze medal.
Yoanna started taking karate lessons when she was four-years-old. Her parents wanted her to learn self-defense skills, so they enrolled her at Karate America in Cottage Grove. She has since transferred to Infinity Martial Arts in Fitchburg. Yoanna advanced through the belt system at a steady pace and earned her second degree black belt at age 12. Karate is a large priority in her life and she practices four days a week at her karate school, learning new forms and sparring with her peers. She also practices independently at home, running forms and sparring drills six days a week. Despite the time commitment, Yoanna chooses to stay dedicated.
"I stuck with karate because to me it is really interesting and exciting. I get to learn how to defend myself and also I get to fight with my team-mates – sparring is my favorite division," Yoanna said during an interview with Simpson Street Free Press .
The Jesolo competition was not Yoanna's first worldwide competition. In fact, she has competed at the international level three times, with the World Karate Commission, the World Kickboxing and Karate Association, and finally with the World Association of Kickboxing Organization in Jesolo. In order to compete in Italy, Yoanna participated in the WAKO national qualifier in Overland Park, Kansas. She placed in the top two in her weight class for the 13-15 year age group, and qualified in six events. She won 1st and 2nd place three times each.
Due to her outstanding accomplishments at nationals, Yoanna proceeded to the World Championship, which included over 2,000 entries from 64 different countries. Yoanna competed in four karate divisions: musical weapons, continuous or light contact, kick light, and point sparring. Each division has slightly different rules, for example in point sparring each kick and punch is worth a certain number of points within a time limit, whereas in continuous sparring a round is not complete until one of the competitors cannot continue or the time ends. Yoanna won third place in the kick light division, beating five other competitors.
"It was fun to compete in all four divisions," said Yoanna. "For the kick light division, which I got bronze in, I had to fight all 15-year-olds that have done this division before and I only had three practices prior to competing."
Competitive karate is highly individualized, so each competitor has to find competitions to participate in for themselves, not through their karate school. However, for the international championship, teams were created for the competition. Yoanna is both an American and Bulgarian citizen, but she competed with the US team. After all the rounds, the teams and individual competitors have a tradition of trading their representative attire and uniforms, or Gis, with other teams. Through such traditions and the competition as a whole, the competitors have a chance to make worldwide connections.
"Being at the World Championships was really fun and exciting," Yoanna told Simpson Street Free Press. "I got to make new friends from all over the world, even Australia."
As Yoanna looks to the future, karate still plays a major part in her plans. Thanks to influences like Raymond Daniels, a well-known marital artist that she had an opportunity to train with, and her parents' support, Yoanna is inspired to continue with karate as a serious commitment. Her next stop is the 2019 World Kickboxing and Karate Union competition in Austria, after which she hopes to compete in the most prestigious competition for athletes – the Olympics.
"Since karate will be added to the 2020 Olympics in Tokyo, Japan, I want to make the team for karate. But since I will be 15 and the age limit is 16, I won't be able to compete for the US," said Yoanna. "But since I am a Bulgarian citizen, I might be able to compete for the Bulgarian team."