With College Scholarships Needed Now More Than Ever, Women in Focus Hosts 35th Annual "I Have Dream" Ball Online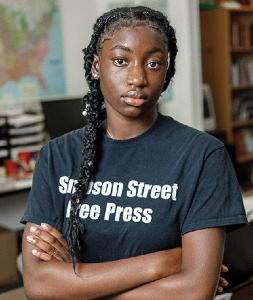 by Yani Thoronka, age 15
The annual "I Have a Dream" Scholarship Ball is a unique and cherished Madison tradition. Sponsored each year by the dedicated volunteers of Women in Focus, this event raises money that goes directly to local young people and helps them afford the always difficult costs of higher education. For that reason alone, this is one of the most important events in our community.
For many students of color college is just that---a dream. For 35 years Women in Focus has helped those dreams come true. The volunteers who put together this event believe college education helps build strong futures and helps build strong communities. These are, of course, lofty goals. But also, important goals. And you can help.
These are challenging times. Like so many other local traditions, this year's "I Have a Dream" Ball will take place virtually. While we will miss the comradery and atmosphere of the in-person event, the remote plan for the 2021 Ball actually makes it easier to support the cause and assist local high school seniors achieve their goals.
By registering online at www.wif.cbo.io or by making a small donation you will make a real difference for young people in Dane County. Do so before January 7th and help sustain this event through an unusual year. Remember, the "I Have a Dream" Ball is run by volunteers and your support goes directly to kids through college scholarships.
For more than 20 years, Simpson Street Free Press students have attended the "I Have a Dream" Ball and supported the work of Women in Focus. Here at Simpson Street it's a tradition we pass down from older to younger students. I attended my first Women in Focus Ball when I was in 7th grade. I will always remember the atmosphere that was created in that space, very welcoming and warm, everyone belonged. The event inspired me and helped me understand the value of education.
The event this year is hosted by Tajma Hall of Channel 15 News and includes a silent auction and first ever Women in Focus "Inspiring the Dream" Awards. The new superintendent of Madison Schools, Dr. Carlton Jenkins, will also speak. As always, you will meet former scholarship recipients, including Simpson Street Free Press managing editor, Taylor Kilgore. This year's remote event is scheduled for Saturday, January 16 and you can enjoy the celebration from the comfort of home.
We know that readers of Simpson Street Free Press support education. This is your chance to be supportive in a fun and consequential way. Please consider a gift to the Women in Focus Scholarship Fund or sign up to virtually attend one of our community's most important fundraising events.
We will see you there!