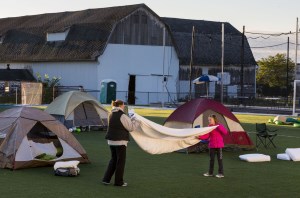 Verona Area High School students camped out overnight last week to raise awareness about local poverty.
Students participating in the event collected monetary donations and food for the Wisconsin Council for Children and Families, a non-profit advocacy group, and the Badger Food Network, a Verona-area food pantry. Both organizations address community issues like hunger, education, and juvenile justice.
"Many people aren't aware of the degree of child poverty in Dane County. This event is a way to advocate for these children and raise money and food for them," said Sarah Useche, senior at Verona Area High School who participated in the event and teen editor at Simpson Street Free Press.
According to Jason Knoll, Verona teacher, Dane County has a poverty rate of 14 percent.
"Sleeping outside definitely isn't comfortable. But that's the point: neither is hunger nor poverty. We're thankful to have the opportunity to bring awareness to issues in our community," said Useche.
[Source: wkow.com]