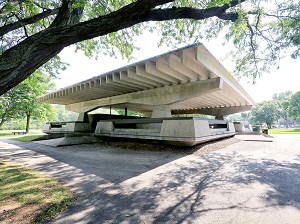 For years, Mayor Paul Soglin and the Madison Police have criticized the Penn Park shelter, located at the South Madison Park, 2101 Fisher St., citing inadequate design and questionable structure.
There have been several proposals demanding for the demolition of the 1960s-era shelter. Some proposals called for replacement of the existing shelter with a new building complete with restrooms, concessions space, a meeting room and up to 3,000 square feet of covered area.
However, the shelter is scheduled to be remodeled instead. Madison spokeswoman Ann Shea claims that the amount of covered area that the shelter provides was the main reason why it was decided to be renovated instead of removed. A shelter renovation proposal received community support at a meeting about a month ago. Another meeting in August is planned to finalize the design changes.
Some structural renovations for the shelter include replacing the low walls of the shelter with steps on three sides with a ramp on the fourth. The inside of the shelter will also be opened, which would add about 4,500 square feet of covered area. The shelter's interior will also undergo substantial changes, including wooded accents. The plan also includes a free-standing building, which will replace the restrooms.
Shelter renovations, along with additional park improvements are scheduled to begin the next spring and finish in 2018.
[Source: The Capital Times]