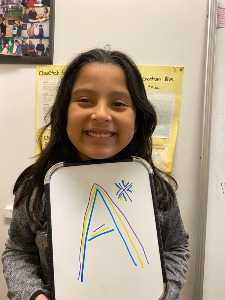 Hello, I am Sol. I am a writer at the Simpson Street Free Press.
Let me tell you how I started at the Free Press. When I was about to enter first grade, my parents sent me to summer school at Frank Allis but I didn't want to go. So, my brother Brandon took me to the Free Press and I started to work. I started when I was just five; now I'm eight. My first articles were book reviews about Dr. Seuss books.
Now I also love writing about animals -- mammals, reptiles, any kind of animal. I also like writing about space because it interests me a lot.
I also write for a publication called the Glendale Free Press, because I am finishing my second year at Glendale. Soon our school will be named for Virginia Henderson.
I really enjoy going to the Simpson Street Free Press because all the people there are nice. If I forget to bring a water bottle they have water to give me. I also get to meet lots of different people. I like helping new people because I want to introduce myself as a good person. Sometimes if they ask me questions like, "where's the bathroom?" or "what does this mean in Spanish?" I help them. I enjoy working with them on our laptops together.
Simpson Street is the best! I have made so many friends. I hope you can visit our newsroom one day. I will personally give you a tour.