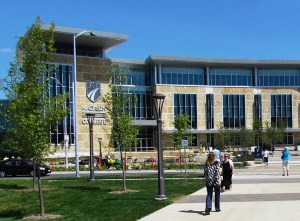 Hundreds of new college students will join Madison College's new 'Scholars of Promise' scholarship program this fall. The program aims to help students from low-income backgrounds succeed as they pursue higher educations.
The school anticipates that approximately 400 students who meet certain academic and financial criteria will make up the inaugural 'Promise' class. For these students, the scholarship program will cover the difference between what their families and Madison College's Financial Aid Office can contribute.
In a statement to the Wisconsin State Journal, Madison College President Dr. Jack Daniels III said, "when more individuals are equipped with a college education, everybody benefits…[i]n keeping with Madison College's mission of providing open access to quality higher education, we stand committed to helping these individuals realize their full potential."
The school's private foundation will fund the 'Promise' initiative entirely. This model parallels other free-tuition programs around the country in only providing the cost of tuition and fees. 'Promise' students must cover textbooks, housing, and other fees on their own.
According to Madison College administrators, 681 high school seniors from 50 local schools applied for the program. To be eligible, applicants must have a 2.25 cumulative grade-point average and a good high school attendance record. They must also complete applications for federal Free Application for Student Aid (FAFSA).
Once accepted into 'Promise,' students must participate in a two-week camp prior to fall semester. The camp seeks to help ease students into the rigors of college, which is key for retaining students from low-income backgrounds, Madison College staff indicates.
When school begins, 'Promise' students must maintain a 2.25 cumulative grade-point average. They must also attend a weekly "college success class" and meet with Madison College staff and faculty on a regular basis.
'Scholars of Promise' hopes to prepare the next generation of academic achievers. And this is precisely what the Madison community needs. Simpson Street Free Press staff and students have followed 'Promise' since its inception, and we couldn't support it and its mission more.
[Sources: host.madison.com; Wisconsin State Journal; supportmadisoncollege.org]