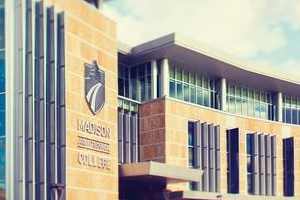 Completing college is a milestone that improves quality of life and future earning potential. But for many graduating high school seniors, high tuition fees are a barrier to attending college. To help bridge the gap for lower-income students, Madison College (MATC) has launched the Scholars of Promise program.
Through Scholars of Promise, or "MATC Promise" as its known, Madison-area high school seniors from low-income backgrounds will have the opportunity to attend MATC with the help of paid tuition. In addition to covering tuition, this program aims to work with school districts across Dane County to prepare high school juniors and seniors for college. Students' families work directly with high school guidance counselors. Students also have the opportunity to participate in MATC's financial-literacy themed workshops.
Evjue Foundation, the charitable arm of The Capital Times, recently announced a $50,000 contribution to the MATC Foundation to underwrite scholarships and support the Scholars of Promise concept.
Working with school districts, MATC is also developing programs to increase student success in high school and retain both students while they attend MATC. Officials hope this will help high school graduates and other young people perceive college as a viable pathway.
In order to enroll in MATC Promise, students must apply for the federal Free Application For Student Aid (FAFSA). In addition, each applicant's family is expected to contribute $3,000 in order for the student to qualify. FAFSA will work with the federal Pell Grant program for low-income students to determine the amount each student will receive. During the 2015-16 school year, the Pell Grant program awarded up to $5,775 per applicant.
MATC's annual tuition is $4,700. After determining the amount covered by the federal government and an applicant's scholarships, Scholars of Promise will pay said applicant's remaining amount of tuition.
Students of the MATC district, which encompasses Dane County and parts of 11 other counties, are eligible for the program. Students must have a 2.25 GPA, an 80 percent attendance rate during their senior year of high school, and meet specific income limits. Currently enrolled MATC students and adults entering college do not qualify. For a year's worth of students, 350 will benefit from the program for an estimated $1.1 million. Although the program covers tuition and fees, students will need to finance their own housing and textbook costs.
MATC Promise will make college more accessible for many local students. And that's something we at Simpson Street Free Press can get behind.
[Sources: Wisconsin State Journal; Madison.com; MATC Press Release]