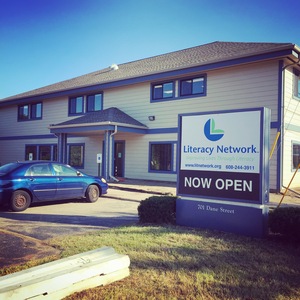 According to a 2003 study, more than 70,000 Dane County residents grapple with low literacy. Founded in 1974, Madison's Literacy Network directly combats low literacy and provides free services for those hoping to improve their English language skills.
This fall, the Literacy Network left its long-time headquarters on S. Park St. to expand at 701 Dane St. Executive director Jeff Burkhart said the organization developed a $3 million fundraising campaign last spring to support expansion costs associated with the new facility.
Each year, the Literacy Network serves more than 1,000 people at 28 separate locations. Burkhart said that the organization's deteriorating location at S. Park was no longer fit to serve this population.
The network's new Dane St. space is an authentic learning center, one more than capable of meeting the community's needs. Here, adult learners can make use of a new library and four expanded classrooms.
The Literacy Network offers courses that follow the University of Wisconsin-Madison's three-semester system: fall, spring, and summer. Students of different English language competencies are paired with tutors who provide individualized instruction. Burkhart says this one-on-one attention helps learners accomplish their personal goals.
Since 2011, the network has also offered a program called SCALE, in which students gain practical work skills and computer proficiency.
Burkhart said that the new space will allow students to "see themselves differently." We at Simpson Street Free Press congratulate the Literacy Network and applaud their fantastic, needed work in our community.
[Source: Madison.com]