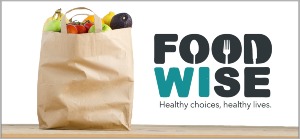 The UW Extension FoodWIse nutrition and education program focuses on helping the community, specifically limited-income families, choose healthier food options. It is federally funded by the Supplemental Nutrition Assistance Program-Education (SNAP-Ed) and the Expanded Food and Nutrition Education Program (EFNEP).
FoodWIse nutrition educators make workshops available at places in the community such as WIC (Women, Infants, Children) clinics, churches, senior centers, and schools. There, participants learn about healthy options and where to find them, how to manage their spending money, and how to plan and prepare meals. Nutrition educators also bring in recipes and samples to further inspire people. They expose community members to healthy foods and make them aware that they can use their SNAP benefits at Farmers' Markets to get fresh, nutritious foods at low prices. FoodWIse's close relationship with food pantries also helps them accommodate the specific needs of their customers, providing them healthy options.
FoodWIse competes against messages created by large corporations which spend millions of dollars on advertising junk foods and less than one percent on promoting healthy foods. Fruit and Veggies (FNV), a national campaign that uses the same marketing techniques as these corporations, has partnered with FoodWIse to combat this. FNV's main focus is on millennials (ages 18-34) since they are typically the ones controlling the family budget. FNV uses the influence of many celebrities, such as basketball player Stephen Curry, social media platforms, and billboards to raise awareness of healthy foods.
UW Extension FoodWIse, along with the campaigns they're partnered with and the contribution of community members, will continue their efforts to make healthy foods available to everyone.
[Source: www.dane.uwex.edu.com]