A Beloved Madison Tradition Continues... With a Virtual Twist!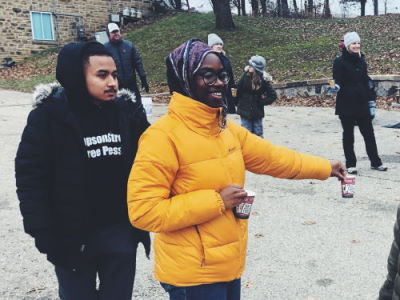 by Kadjata Bah, age 15
Thanksgiving morning in 2019 was very cold. But for me, it ended up being heartwarming.
Along with several of my Simpson Street Free Press colleagues, I made the trek to Fitchburg. We were not there for turkey--that was still in the oven. Rather we were there to volunteer for the Berbee Derby, a 10-kilometer race that winds its way through Fitchburg every Thanksgiving morning. Even though I spent much of the time wrapped in a warm blanket, I still got to participate and help out. And I still got to have fun.
The Berbee Derby is a local tradition. Every year, thousands of people gather in Fitchburg on Thanksgiving morning to participate. Some come to win, but everyone comes for the experience and the fun. They are also there to support some very good causes!
Yes, one of the unique things about this race is that all proceeds go to support the Technology Education Foundation, a charity that promotes access to technology for Dane County kids. Last year they gave away over $100,000 in grants to schools and local non-profits.
As the morning progressed, the air stayed cold. But our hearts (and bodies) warmed as we handed out water and got to see firsthand the overwhelming support from the community for this event. The feelings of camaraderie among my fellow students, the event organizers, all the volunteers and the runners is something I will never forget.
I was really looking forward to helping out with the race again this year, but in 2020 things don't always go as planned. This year, the Berbee Derby will be a little different.
This year, the Berbee Derby will be a 'Virtual Race.' This means that rather than running together on the same course on Thanksgiving morning, runners can run the race whenever or wherever they want to. They can run whatever distance they want and still help the community.
This means, of course, that this year's race will not be a competitive race. The organizers will not be able to collect times or track distances covered. But runners will still receive a special commemorative long sleeve shirt, and a BUFF (a scarf-like loop of cloth that makes a great face covering), which is way more stylish then a boring old mask.
There is still time to register! Join your fellow runners in spirit, earn those calories for that slice of pumpkin pie, and most importantly, help support kids all around Dane County.
Click here find out more and to register