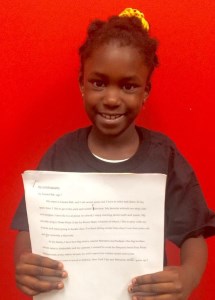 My name is Aissata Bah, and I am seven years old. I love to color and draw. In my spare time, I like to go to the park and watch television. My favorite animals are stray cats and puppies. I also like to eat pizza.
In school, I enjoy learning about math and music. My favorite song is "That's What I Like" by Bruno Mars. Outside of school, I like playing with my friends and going to karate class. I've been doing karate since I was four, and I'm currently a blue belt.
I have a pretty big family. I have my parents, two big sisters named Mariama and Kadjata, and one big brother named Abdoulahi. I wanted to work for Simpson Street Free Press because both of my sisters already do. I also want to be a better reader and writer like they are.
When I'm older, I want to travel to Indiana, New York City, and Minnesota. And when I grow up, I want to be a DJ.