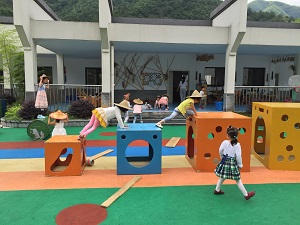 Madison, Wisconsin's very own One City Early Learning Center on the South Side of Madison will be the first US pilot site for the groundbreaking AnjiPlay curriculum. This preschool focused curriculum was developed over a 15 year period by Ms. Cheng Xuequin, Director of Preprimary Education for Anji County, China. It features minimally-structured, open-ended environments designed to allow more imaginative play and contact with the natural world. It places trust in children to take risks and to seek their own individual understanding of the world around them.
Mr. Kaleem Caire, CEO and founder of One City and Xuequin met less than a year ago. Caire believes in Xuequin's vision of how complex learning through creative play could shape the future of preschool and early childhood education.
One City plans to utilize a two-generation model to prepare their preschoolers for success both in and out of school. The school is built on the idea that strong communities produce strong children.
The school, currently serving 30 children on the South side of Madison, one of the most racially, ethnically and economically diverse neighborhoods in the state, has a goal to grow to serve 1000 children throughout Dane County within the next 10 years.
[Source: One City Learning Center Press Release]