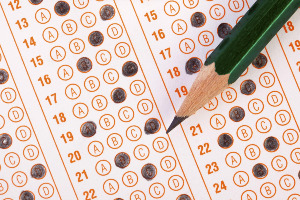 Standardized tests are typically used to identify students intelligent enough for advanced learning opportunities. This is a problem. Standardized tests are not the most accurate tool for measuring student intelligence.
Countless factors contribute to the ability to perform well on tests. We do know that students from disadvantaged backgrounds, including Black, Hispanic, and low-income students often don't score well on these tests in comparison to their White, higher-class peers. As a result, these students miss out on advanced learning opportunities. Previous efforts made to diversify advanced programs at the high school level have proven unsuccessful, so universities are changing the way they look at admissions. In an attempt to grant more students opportunities to excel in advanced programs, some prestigious schools are abolishing the use of standardized test scores as a necessary component of admissions.
Standardized tests should not be used as the only benchmark to compare students. The reason: not all students are given the same resources. Most high schools already deal with the inequities of socio-economic status, education, and opportunity. These inequities mean some students excel while others fall behind. Sometimes location has a lot to do with the "pre-determined success" of a student. For example, Wisconsin is ranked as one of the worst states for African-American (Black) achievement. These factors can make it harder for a Black student in Wisconsin to excel as opposed to a Black student from New York City. There is a gap in the amount of funding and resources available and some students get more attention than others. This is an example of how inequalities can shape a student's experience in school. High-achieving students are often those who get more resources.
Some students don't get the opportunity to show they're advanced, at least not outside the realm of standardized tests. But there are other strategies that can help more students show their true potential. Studies suggest that low-achieving students perform better academically when they attend classes with their higher-achieving peers. This implies that students from disadvantaged backgrounds have the same potential to be advanced learners as their White peers.
So, why aren't there more students of color in advanced programs?
The answer lies in standardized test scores and within our schools. Even students who perform up to or above standards aren't always given the same resources or opportunities. So, it follows that those who do not perform up to standards will not be given the same tools. A study done by the National Association for Gifted Children showed that students of color are less likely to be selected for advanced programs even when their grades and test scores are on par with their White peers. This indicates unequal access to advanced learning opportunities across the nation.
Another example occurs in New York City. New York students are only considered for high school advanced programs if their family request it. This model is a problem for families who speak English as a second language. These families often don't know such programs exist or have the resources to access them. Even when families are aware of such opportunities, disadvantaged students sometimes are not encouraged to take advanced courses--so they don't participate. With all the pressure students face surrounding standardized testing, it's no wonder that some students of color don't think they'll be successful; they're not considered able unless they have high test scores.
Children who constantly encouraged and always confident will be successful in advanced environments. But, with such high value placed on standardized tests, such as the ACT, we miss opportunities to include more kids of color. There is an ugly habit in academia to "teach the test" in order to get higher scores. Our concern shouldn't be that students aren't performing well enough on these tests, but that there is so much emphasis on meeting state and national standards that personal student achievement is sometimes overlooked. We push students through the system. What educators fail to realize is that standardized tests are not the most effective way of measuring student proficiency. While ranking students nationwide proves effective for educators and researchers and helps us analyze disparities across demographics, these tests can't possibly tell a complete story.
Jonathan Plucker (professor at the John Hopkins University School of Education) believes that students should be identified based on their abilities relative to their in-school peers, not on a national or state standardized test. I support this method; it eliminates competition among students and focuses on personal growth, rather than trying to force the same level of proficiency on all students.
What Plucker and other experts are saying is that Standardized tests should not be treated like IQ tests—they're not. Researchers say that an "opportunity gap" leads to the "achievement gap," and this can be seen in Madison's test scores. There is unequal access between families who have the funds for private test preparation and those who only have access to school-provided preparation. ---Insert link to Amie Kabera story here---- When students are not properly prepared for tests like the ACT, they are forced to guess on hundreds of multiple-choice questions. Rather than relying solely on standardized test scores, it would be more beneficial to include grades and other indicators of a student's ability. Given that students from disadvantaged backgrounds tend to score lower, but can excel in advanced programs when given the opportunity, it seems clear that school GPAs and grades can also demonstrate ability.
According to Plucker, one solution to diversifying advanced programs is to only place students in advanced classes for their strongest subjects. Allowing students to get recognition and encouragement in their strongest areas will ensure that each program or course includes students from diverse backgrounds.
Rather than relying solely on standardized test scores, admissions to both advanced programs and colleges should look at students based on advancement per subject, regardless of socio-economic status. The University of Chicago became the first research university to make the ACT and SAT optional rather than mandatory for admission. This is a potentially important step in the direction for diversification of higher-ed. It's important because it levels the playing field, rather than greedily seeking out students of color.
A 2007 report found that higher-achieving, low-income (HALI) students were less likely to attend the more selective colleges and more likely to attend the least selective colleges. They also were less likely to graduate when attending the less selective colleges in comparison to their higher-income peers. College-readiness can be measured in a variety of ways. Researchers speculate that the low number of HALI students at selective schools has something to do with the amount of funding and available resources. Colleges with funds available to recruit in lower-income schools will get a higher population of HALI students. Colleges with good advisors and resources will have a higher retention rate than those that do not. For example, some colleges, including Historically Black Colleges and Universities, might not be as selective (in the traditional sense) but they do get a higher population of HALI students. And they have good success rates. This is noteworthy because it is an example of how students of color who are advanced, but often overlooked, will be successful when they get the same resources.
As educators move to make sure students are college ready, they are beginning to realize that students are more than just a score and a ranking; these students are human beings capable of learning and achieving their goals. According to Joseph Soares, a sociology professor at Wake Forest University, "high school grades reflect years of effort and are a more reliable assessment of college potential than test scores." Soares also says that although Deans of Admissions are aware test scores are not the best predictor of student success, they resist change because faculty do not want to "lower standards" by dropping a test that the vast majority of them did well on.
Seeing that educators acknowledge that standardized tests are not the best indicator and that these tests are merely a way of measuring proficiency among demographics, it is obvious that students need other ways to show their intelligence. Allowing students to show their skills in more ways than test scores will not only diversify advanced programs, but students will know that they can be successful without having to meet unrealistic standards. Students deserve more than to be labeled "below proficient" and told they can't do well in advanced environments when they aren't given the chance. Programs and colleges should stop placing most so much effort on trying to get students to perform well on standardized tests, and focus their attention on making sure students are truly college ready. While standardized tests are useful, they're not the only true indicators of student potential.
[Sources: The New York Times; The Notebook; Standardized Tests Discriminate Against Minority and Lower Income Students; Concordia University; Closing the College Gap: A Roadmap to Postsecondary Readiness and Attainment; The Missing " One-Offs": The Hidden Supply of High-Achieving, Low-Income Students; Disentangling the Roles of Institutional and Individual Poverty in the Identification of Gifted Students]