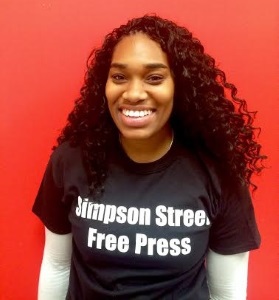 Simpson Street Free Press staff writer and columnist, Enjoyiana Nururdin, was recently promoted to lead editor of La Follette High School's student newspaper, The Lance.
A talented young writer, Nururdin began her career with The Lance in eighth grade as in intern. She quickly rose through the ranks as writer and assistant editor and now, in her junior year, has officially been named the paper's Editor in Chief.
"I feel honored and excited," said Nururdin about her promotion.
In her capacity as editor, Nururdin plans to help other students at The Lance improve their writing skills and gain confidence in their work. Nururdin also hopes to hone her management skills through the opportunity. "I just want it to be the best paper it can be," said Nururdin.
In addition to her work with The Lance and at Simpson Street, Nururdin also participates in SSFP Summer Media Institute (SMI) and writing workshop programs. She plans to pursue journalism in college.
The Lance began as a journalism class at La Follette years ago and has since continued to offer unique opportunities for students interested in writing, literature, and journalism. Led by La Follette's web design and yearbook teacher Donna Kennedy, the class also provides students with important editing and leadership experience.
"I like that the class is student-structured because it gives students a chance to help guide others while being guided themselves. It's why peer editing is so important," said Nururdin.
James Kramer, director at Simpson Street, says The Lance is an example of what 21st century school newspapers can be. "I love the model and Donna Kennedy's work is absolutely outstanding," Kramer said. "Studying journalism sets kids up for success in almost any field or college major. Making it a school-day class is a common sense idea that really works. I am always impressed by The Lance," Kramer added.
Like Kennedy, Nururdin hopes to help other young students and encourage them to engage with their creative sides. In fact, freedom of expression is one of the many reasons that Nururdin loves writing. "You have the ability to express yourself no matter the format," she stated.
SSFP staff and students are very proud of Nururdin, who is a role model inside and outside our newsrooms. We are excited to see the great things that she will accomplish as the head of The Lance.