UW-Madison Women's Basketball Announces Talented Recruits
by Josepha Da Costa, age 15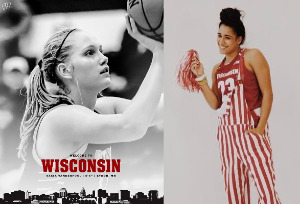 After the disappointment of last season's interruption at UW-Madison, due to Covid-19, the Badgers Women's basketball team has announced exciting news for the Madison community. Two new players have committed to the recruiting class of 2021: Krystyna Ellew and Sacia Vanderpool.
Ranked No. 104 in the nation by the All-Star Girls Report, 5-foot-10 Krystyna Ellew is a point guard from Chicago Taft. Holding the school's record of 58 points in a single game, Ellew broke Taft's record and quickly turned into their leading scorer. During her junior year, she ultimately averaged 22.8 points.
"She's probably the most talented offensive player I've ever had," said Mike Seberger, founder and director of the AAU program Lady Lighting. Due to her talent, Ellew was offered many scholarships to schools including Missouri, Illinois, and DePaul. However, she decided on UW-Madison. Her experiences at the UW Elite camp she attended and the connections she made during her campus visit last summer helped her to choose UW as the school she wanted to attend and play for.
"It just really made me feel like, wow, this is really a family here. I just love the coaching staff and when I stepped foot on campus it just felt right," said Ellew when talking about her decision to play for the Badgers.
From Byron, Minnesota, Sacia Vanderpool is a 6-foot-4 post player at her local high school. As a junior, she preserved her average of nine rebounds, four blocks, and 16 points per game, all while maintaining a 3.96 grade point average. Vanderpool has proved her versatility on the court by shooting 43 percent from a 3-point range, 54 percent from the field, and 81 percent in free throws. Her adaptable perimeter plays and quickly growing set of post moves made it possible for Vanderpool to improve greatly during the past season, which resulted in many recruiters being surprised by her development.
"She's definitely one of those late kids that everyone was kind of sleeping on," said her Amateur Athletic Union coach Tylor Coley. "Then boom, her recruiting went through the roof in the last month. If we had gotten to play this summer she would've gotten a lot more offers."
Although Vanderpool received offers from many other schools, she always felt drawn to UW due to her strong connection to the campus. She will be part of the fourth generation of her family to attend the school; her sister, father, paternal grandparents, and great grandparents have all gone to UW-Madison. Also, her mother's great uncle, Verner Suomi, was a well-known UW professor remembered for founding the UW Space Science and Engineering Center. Vanderpool has already been frequenting the Madison campus to watch Badger sporting events.
"It's kind of been my dream school, I guess," Vanderpool told the Wisconsin State Journal in an interview. "I've always felt a connection with the campus because I've been coming there for a while. It's felt like home."
Both Ellew and Vanderpool will be starting their Badgers women's basketball careers next fall. The university and the Madison community welcomes them as they plan to embark upon their journeys as Badgers.
[Sources: Wisconsin State Journal; UW Madison Athletics Department]