Black Swimmers Push International Swimming Federation to Approve Swim Caps Designed to Protect Afro-textured Hair
by Valeria Moreno Lopez, age 15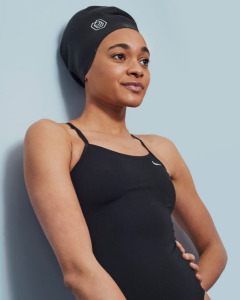 In July the International Swimming Federation (FINA) made a statement. FINA prohibited using in competition a type of swimming cap specifically designed for natural Black hair.
The Soul Cap was invented by Toks Ahmed-Salawudeen and Michael Chapman in Britain in 2017. This tailor-made product is designed to protect thicker and Afro-textured hair from chlorine when in the water. These caps also have extra room for more voluminous hairstyles.
Initially, FINA rejected an application by swimmers for certification to allow Black swimmers to use the caps. And FINA confirmed that the cap couldn't be used by competitors at the Olympic Games. Due to backlash that followed this decision, the organization posted a statement to the public.
"FINA is committed to ensuring that all aquatics athletes have access to appropriate swimwear for competition where this swimwear does not confer a competitive advantage," announced the statement. "FINA is currently reviewing the situation with regards to 'Soul Cap' and similar products, understanding the importance of inclusivity and representation."
The swimmers countered by saying that, due to the cap's larger size, some competitors may even view it as a disadvantage rather than an advantage.
According to their released statement, the cap can still be worn in "recreational and teaching" environments and FINA mentioned they will contact Ahmed-Salawudeen and Chapman about using the caps inside FINA development centers, where many elite swimmers practice for competitions and the Olympics.
FINA, however, pointed to several reasons for why they originally banned the Soul Cap. In an interview with BBC, Soul Cap founders shared that FINA had reasoned that "athletes competing at the international events never used, neither require to use, caps of such size and configuration." Their other main claim was that the cap didn't "follow the natural form of the head."
The makers of the Soul Cap responded to FINA's decision by explaining that the biggest reason they made their caps was to solve an overlooked problem in their community: Black people who struggle to fit their hair into the swimming caps that FINA does allow. Danielle Obe, chair of the Black Swimming Association that strives to expand diversity in aquatics agreed, saying that inclusion is a key advancement that will help encourage Black swimmers to feel more willing to join in water sports.
"We want to be included, all we're asking for is to have the option to have a piece of equipment that has been designed to cater to the issue of our hair, which is a significant barrier to participation in aquatics as a whole," Obe said. "If FINA was aware that this was a major barrier for our community, I think that decision would have been made slightly differently."
And two-time Olympic medalist in swimming, Lia Neal, noted "This is so much bigger than banning a type of cap."
Indeed, the issue of exclusion in swimming extends beyond any competition; it has become a matter of safety. According to a 2020 study published in the International Journal of Aquatic Research and Education, shows that "systematic exclusion from public pools" faced by people of color correlates with higher fatality rates from drowning.
In response to the numerous objections to their previous statement, FINA released a new comment on the topic.
"FINA appreciates the efforts of 'Soul Cap' and other suppliers to ensure everyone has the chance to enjoy the water," the governing body said in its new statement. "FINA expects to make its consideration of 'Soul Cap' and similar products part of wider initiatives aimed at ensuring there are no barriers to participation in swimming, which is both a sport and a vital life skill."
Even after the commencement of the Olympic games, the public has yet to hear FINA's final decision.
[Sources: The New York Times; National Public Radio]