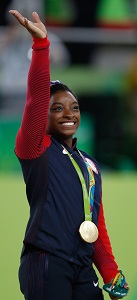 Although Olympic gold medalist Simone Biles is a major success today, she didn't always have a star-studded life. Born on March 14th, 1997, in Columbus, Ohio, Biles was raised by her grandparents because her mother struggled with substance abuse. After living with her grandparents for a while, Simone Biles and her sister were officially adopted by them.
When Simone was a toddler, her talent was discovered during a field trip to a local gymnastics center with her daycare. While watching the gymnasts, she began to imitate them, which drew the attention of the gymnastics coach. The coach then sent a letter home to her grandparents requesting that Biles either join gymnastics or tumbling. Tumbling is a form of gymnastics in which no equipment is used. This letter sparked Biles' career as a gymnast.
At the age of ten, Biles began competing as a level eight gymnast. Then, in 2011, she began climbing the ranks to the junior elite level. In this same year, she took gold in vault and balance beam in the American Classic. One year later, Biles won four all-around events and vaults at the American Classic, the Alamo Classic, the Houston National Invitational, and the Secret U.S. Classic. All-around's consist of vault, floor gymnastics, uneven bars, and beam.
Simone continued her winning streak and ultimately moved up to the senior elite level, winning the 2013 US all-around P&G Championship. She currently has ten gold medals from international competitions and two Olympic gold medals from her first year in the Olympics. In August of 2016, Biles led the American Olympic team to win gold.
She is the first African-American gymnast to win an all-around and the first woman to win three consecutive all-around gold medals. Simone Biles has a certain flair that is hard to match.
[Sources: Biography.com; ACTIVEkids.com]