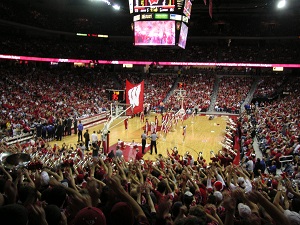 Two well-known and talented college basketball players have withdrawn from the NBA draft and will return to school. Nigel Hayes of Wisconsin and Malik Pope of San Diego State will return to their college teams. Both players will add firepower to two of the best basketball programs in the NCAA.
Nigel Hayes and Malik Pope tested the NBA waters by exploring their draft possibilities. Only the very best college players get drafted by the NBA. Hayes and Pope are excellent players. Ordinarily, flirting with the idea of joining an NBA team would have been a big risk. This is because those who go through the draft are no longer eligible to play for their college team. New rules in effect this year allowed underclassmen to try out an NBA franchise without jeopardizing their eligibility.
In the case of Nigel Hayes, the risk also included waiting to complete his college degree. Hayes is an excellent student. Of course Hayes is also returning to a Badger team that could easily challenge for a championship. In Pope's case, NBA scouts advised him to go back to school and polish his skills. Then he could come back stronger and more fit.
Hayes is returning to school with more insight on what playing in the NBA would mean for him. His mother Talaya Davis, made it clear that she wants him to get his degree. Hayes responded, "My mom just wants the best for me and my future, not only as a basketball player, but as a man in general."
Hayes is one of the best basketball players in the Wisconsin Badger team, on track to graduate in May 2017 with a degree in business.
[Sources: Wisconsin State Journal; San-Diego Union Tribune]