Michael Jordan's Multi-Decade
Career Changed Basketball Forever
by Owen Ayite-Atayi, age 13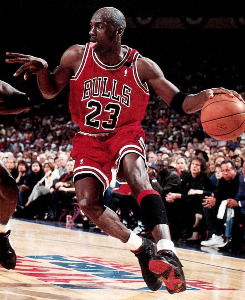 Michael Jeffery Jordan is a former player of The National Basketball Association (NBA) for the Chicago Bulls. He is considered the best NBA player of all time by many. He dominated his competition and played through the mid-1980s to the late 1990s. Jordan led the Chicago Bulls to win six NBA championships, he earned five MVP awards and three All-Star MVP awards in his NBA career.
Michael Jordan was born February 17, 1963, in Brooklyn, New York. Jordan was raised in Wilmington, North Carolina. Jordan has always been competitive in anything he did. Growing up, he had a good and stable family. His mother, Deloris, was a bank teller and author who has written and published many books in her life. His father was a maintenance manager at a company called General Electric. Jordan has four siblings named Deloris Jr, James Jr, Larry, and Roslyn.
Jordan's father, James, introduced Michael to baseball and later to basketball. He learned from his father during the summer of 1993. Tragically, that same summer, his father was shot and killed during a bank robbery by two teenagers. His body went missing for 11 days until his remains were found in a swamp in McColl, South Carolina.
Jordan enrolled at the University of North Carolina. During this time, he started playing basketball and soon became an important part of the North Carolina Tar Heels basketball team. He led them to an NCAA Division One championship.
Jordan left their junior year of college to declare for the 1984 NBA Draft. He got drafted to the Chicago Bulls. Jordan was the third overall pick in the draft behind Hakeem Olajuwon, who was drafted by the Houston Rockets, and Sam Bowie, drafted by the Portland Trailblazers. Jordan led The Chicago Bulls to win six NBA titles from 1991 to 1998. Once he retired, he continued to grow his brand and is now known for his clothing collaboration with Nike.
His current net worth is over 1 billion dollars. Jordan is also president of the NBA team Charlotte Hornets. Michael Jordan has done so much for basketball during his career and continues to leave a legacy for future basketball players and fans.
[Source: Biography.com ]