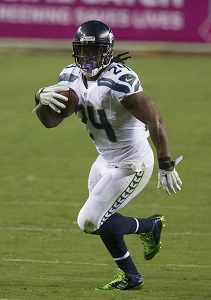 Marshawn Terrell Lynch was born in Oakland, California, on April 22, 1986. He was raised by his single mother, Delisa Lynch, from whom he received much of his natural athletic talent. Lynch also grew up with his two brothers, David and Davonte, and his sister, Mareesha. Delisa worked for many companies to support and feed her kids throughout their childhoods.
To keep them busy and out of trouble, Delisa encouraged her kids to participate in a sport year round. Lynch, who was very coordinated and enjoyed playing team sports, quickly became a standout football player and starter at Oakland High School. As a sophomore running back, he even earned all-league honors. Lynch maintained this title for three years in a row.
Following his early success in high school and in college at the University of California-Berkeley, Lynch was eventually drafted into the National Football League. He was picked by the Buffalo Bills in the first round of the 2007 draft, after he decided to forgo his senior year of college. Lynch gained fame and the nickname "Beast Mode" as the Bills' starting running back.
In 2010, after some trouble with the law over misdemeanor weapons charges and a consequential suspension from the Bills, Lynch was traded to the Seattle Seahawks. His first season with the Seahawks was his best yet. That year, Lynch rushed for 1,204 yards, caught 28 passes, and scored 13 touchdowns. His great year earned him first all pro-honors, but Lynch had his eyes on a bigger prize: the Super Bowl.
Lynch ultimately lead the Seahawks to victory against the Denver Broncos in Super Bowl XLVIII. He continued to play and astonish many until he announced his retirement in February of 2016.
Despite his playful persona, Lynch has what coaches call a "high football IQ," meaning his knowledge of football is superb. Over the years, he has earned the respect of countless opponents for his tenacity. Though his career as a professional football player has come to an end, Lynch continues to mentor younger players, including at Berkeley, and share his love for the great sport of football.
[Sources: JockBio.com; Wikipedia]