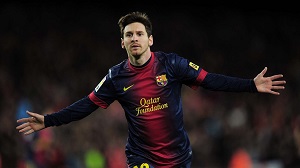 Professional soccer player and a children's activist, Luis Lionel Andres Messi, also known as Leo Messi, was born on June 24th, 1987 in Rosario, Argentina.
As a child, Messi struggled with his height. Even though he was very short for his age, he was unintimidated by the taller boys. Messi began playing soccer with his older brothers. He was discovered by FC Barcelona while playing in a soccer club called Newell's Old Boys Club. He was only 13 when FC Barcelona invited him to play with their team's youth academy in Barcelona, Spain. The club agreed to pay for Messi's medical care that included growth injections. Eventually, Messi grew to be five feet, seven inches tall.
Today, he is a famous soccer player who scored 500 goals between 2004 and 2016. Messi was unstoppable: he won his first FIFA Ballon d'Or (golden ball) in 2009 and he has won four more Ballon d'Or in the last few years. Amazingly enough, Messi continued to improve his skills, finding new ways to elude defenders. Messi led FC Barcelona to victory in the Spanish League Championship and the Spanish Super Cup Championship in 2010 and 2011.
Messi has also done commercials for Adidas, Pepsi, EA Sports and Turkish Airways, and he has his own company called Messi. His company only sells soccer shoes and balls. Messi's salary is approximately $21 million per year, making him one of the world's highest paid soccer players.
In 2007, Messi founded the Leo Messi Foundation. His foundation provides youth with health, education and sport programs. Messi and his girlfriend, Antonella Roccuzzo, became parents in 2012. Their son is named Thiago.
Even though Messi is a very private and quiet person, he still finds ways to help others. He also continues to fight for children's rights from across the world.
[Source: biography.com]