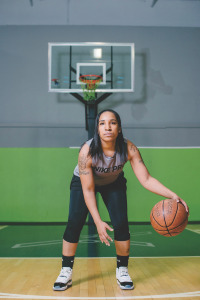 East High School girls' basketball now has a definite head coach. LaRonda McLin served as the interim coach last season before she was promoted to head coach this past month. The announcement in regards to McLin's promotion came from East athletic director T.J. Rogness on Thursday, June 18.
McLin graduated from Madison East in 2002, and in her time there her contributions allowed the girls' basketball program to secure an overall record of 9-12. Post high school, she continued her education at Carthage College in Kenosha, where she played basketball before transferring to Madison Area Technical College (MATC) to finish her education.
McLin is presently working at Schenk Elementary School as the director of the Community Learning Center, an after school program. She had also previously worked at East as the JV head coach from 2015-2018. During her time at East, McLin also coached with Wisconsin Academy in 2017 and CRUSH Basketball in 2018. She later founded HoopinBeauty, a basketball skills and training company. McLin then transferred from East to Madison West, where she became the assistant varsity coach for the 2018-19 season.
This past season, East went 8-12 and came 7th in the Big Eight conference- but unfortunately fell through in the second round of the WIAA regional play. The majority of last year's roster graduated, including the top six scorers, leaving only three returning players. So with that, there is much anticipation to see what East has in store for this upcoming season.
[Source: Wisconsin State Journal; Brava Magazine]