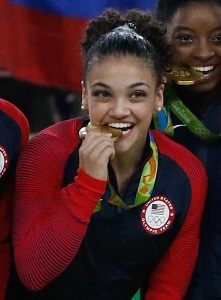 Gymnast Lauren Hernandez found her sport at age five. With every performance as a kid her high level of talent increased. At just 16 years Old Laurie Hernandez became the first athlete born in the 21st century to win an Olympic gold medal in women's gymnastics on the American team.
Hernandez was born in Brunswick , New Jersey on June 9th, 2000. She started gymnastics when she was five but became more serious at seven. Hernandez began taking recreational classes. She was given the nickname "Laurie" because there were other Laurens at her gym.
Hernandez began a successful career at age 12 when she placed 11th in the junior division U.S. classics. After that she qualified for the national championship in St. Louis where she placed 21st after only two days of competition instead of the usual four.
At just 15, Laurie began to talk about joining Olympic teams, she conveniently became age eligible in 2016 when she turned 16. Hernandez also participated in the City of Jesolo Trophy giving a solid performance by winning gold in beam silver in vault and all around bronze. When Hernandez was nine she scored number one TOPs kid in the country. In 2012, she scored 21st all around at the national championships. In 2013, Hernandez scored second and won event medals on uneven bars, balance beam, and floor exercise. In April, she competed in the gymnastics nationals in Everett, Washington then was picked to compete at the internationals. In speaking of her future, Laurie stated that, after she finished her gymnastics career she would like to continue performing… but as an actress.
[Sources: Wikipedia; nbcolympics.com]