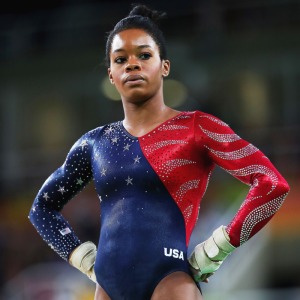 The first African American Olympic gold metal winner in an individual all-around event, Gabrielle Christina Victoria Douglas was born in Virginia Beach, Virginia on December 31, 1995. From a very young age, Gabby displayed gymnastic talent. At the age of three, Gabby could do a perfect straight cartwheel using the skills that her older sister, Arielle, taught her. By four, Gabby taught herself to do a one-handed cartwheel. Gabby's mother would not let her take official gymnastics classes until she turned six, however. In 2004, marking the beginning of her career as a gymnastic star, Gabby was named a Virginia State Gymnastic Champion.
When Gabby turned 14, she moved to West Des Moines, Iowa. Here, she trained with coach Liang Chow, who is known for shaping young girls like Gabby into Olympic gold medalists. While living with a host family in Iowa, Travis and Missy Parton, Gabby acted as a big sister and role model to the Parton's four daughters, one of whom was also a student of Liang's.
After training with Liang for five years, Gabby finally had a chance to prove herself in the 2010 Olympic Games. She placed third on balance beam, sixth on vault, and ninth on all-around in the junior division. Overall, Gabby placed fifth all around and won a piece of the team U.S.A. gold medal.
After her amazing showcase in 2010, Gabby's name and story were plastered all over magazines and news channels in the United States. From there, Gabby started winning competitions left and right, including the 2011 World Artistic Gymnastics Championship in Tokyo, Japan and the 2012 Olympic Trials in San Jose, California. She was also selected to represent the United States at the 2012 summer Olympic games in London, England.
Gabby has proven to be more than a gymnastic champion: she is also a role model to all the other girls across the nation who watch her achieve greatness. Gabby shows us all that if you try hard, and put in enough time and effort, anything is possible.
[Source: www.biography.com]