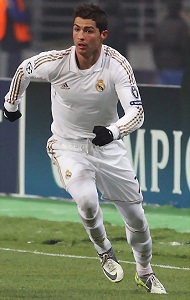 Cristiano Ronaldo dos Santos Aveiro, better known to the world as Cristiano Ronaldo, was born on February 5, 1985 in Funchal, Madeira, Portugal. He is a professional soccer player and has set many records while playing for Manchester United and Real Madrid.
Born to Jose Dinis Aveiro and Maria Dolores dos Santos, Cristiano Ronaldo was the youngest of four siblings. Ronaldo was named after his father's favorite actor, Ronald Reagan. He grew up in a huge working class neighborhood. His home was a tiny, tin-roofed shack, which provided a clear view of the ocean. His father was a gardener, but drank too much, which lead him to die of kidney problems in 2005. After Ronaldo's father died, his mother had to work twice as hard to maintain a stable income. So, she became a cook and a maid. She was later diagnosed with breast cancer in 2007.
Ronaldo was first introduced to soccer when he was 10 years old. He never wanted to stop playing it. He became known in his community as a phenomenal soccer kid. Ronaldo loved the game so much that he would sneak out of his bedroom with his soccer ball to avoid doing homework.
In 2001, at the age of 16, Ronaldo signed up for Sporting Portugal. That same year, his team played against Manchester United. He impressed the team so much, the players asked their manager to try and sign him on the team. Manchester United paid Ronaldo's team more than 12 Million euros for the opportunity.
When Ronaldo finally joined Manchester United, he scored the first three goals in the 2004 FIFA cup final and helped win the game. Ronaldo set a franchise record for his 42 goals scored for Manchester United and won the FIFA World of the Year honor.
Although Ronaldo was very good on the field, his loyalty to Manchester United was often questioned and claims surfaced that he wanted to play on another team. In 2009, when Real Madrid decided to pay Manchester United $131 million for the chance to sign him on their team, no one was surprised.
Cristiano Ronaldo's incredible performance has encouraged and inspired me to become a better soccer player.
[Source: biography.com]