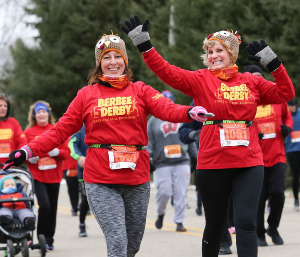 Most of us consume plenty of good food on Thanksgiving Day. Luckily, Dane County has the perfect balance for all the calories. At the annual Berbee Derby, we can all get some good exercise Thanksgiving morning, and then enjoy the rest of the day with family and friends.
The 16th annual Thanksgiving Day Berbee Derby features a 5K Run/Walk and a 10K run. Our community benefits because 100% of Derby proceeds go to the Technology Education Foundation (TEF). These funds, over $1,600,000 since the Derby's inception, have supported dozens of innovative projects, and are used to help schools and non-profit organizations close the technology gap so prevalent in under-served populations of all ages.
After 16 successful years, the Berbee Derby is a cherished local tradition. It is a well-organized race with a certified 5K and 10K course. And this year's event promises some special surprises along the way!
As always, the Berbee Derby event features lots of family fun, including the popular SingleWire Gobbler Pavilion with face painting and balloon art. The race offers special kids pricing for families who want to run together.
The 2019 race takes place on November 28th (Thanksgiving Day) at 8:30am. Participants will gather at 5500 East Cheryl Parkway, in Fitchburg. Simpson Street Free Press students will volunteer at the event and we hope to see you there. We will be handing out free water and free smiles.
For additional race information, or to volunteer at the event, visit the Berbee Derby website.
Click here to sign up as runner or to register as a team for the race, or you can learn more about the Berbee Derby on their facebook page.