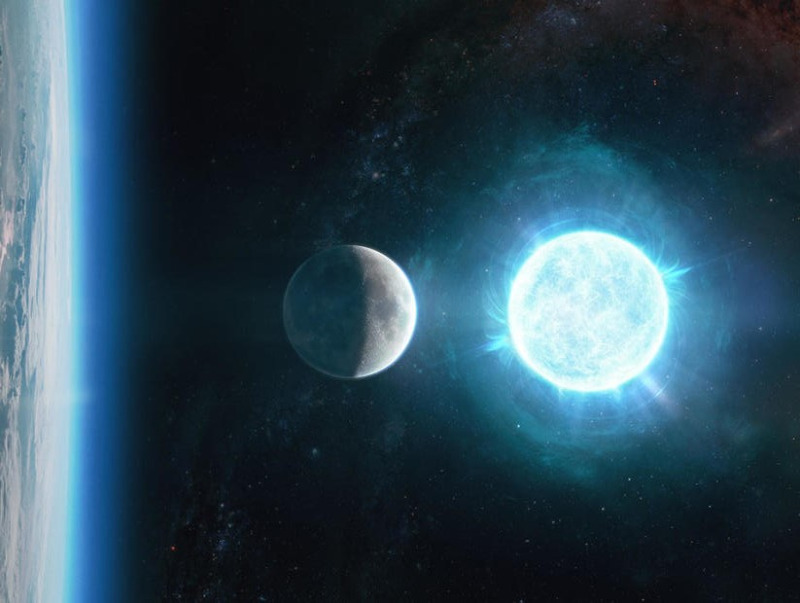 Astronomers Discover Moon-Sized Star
by Haliah Berkowitz, age 10
Scientists have recently discovered a white dwarf star, the smallest to ever be found. A white dwarf star is formed when a star runs out of fuel and collapses in on itself, but is not heavy enough to collapse into a black hole.
An astrophysicist at the California Institute of Technology, Ilaria Caiazzo and her scientific team discovered this dwarf star. Caiazzo found the star using the ZTF (Zwicky transient facility) which is only used at the Palomar Observatory of California. The ZTF finds objects in space by looking at how they change in brightness. After their discovery, these astrophysicists gave the star its scientific name, J1901+1458.
The white dwarf star is the smallest star known in space. The star is about 130 light years away from Earth. The star's average radius is about 2,140 kilometers, just slightly bigger than the Moon, and much smaller than the Earth. Despite being so tiny, this star is very heavy. Its mass is about 1.3 times the mass of our Sun.
The star is likely to have been formed from the merger of two white dwarf stars. This resulted in the star to have an extra large mass and as well as an extra small size. The team says, "that mash-up also would have spune up the white dwarf's strong magnetic field."
We have learned a lot about this white dwarf star and studying it has allowed scientists to figure out how strong the magnetic field is and how it is rapidly rotating in our galaxy. The white dwarf stars are the smallest type of stars, but this star (J1901+1458) is the smallest of its group, making it even more unique.
[Sources: Space.com ; Science News for Students; Nature ]