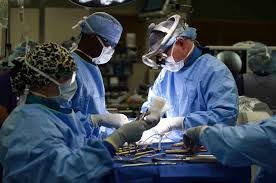 There is now a surgical glue that is able to close wounds in 60 seconds. Methacryloyl Tropoelastin, or MeTro, is a surgical glue with "natural highly elastic proteins with light-sensitive molecules," which allows the glue to set in 60 seconds when exposed to UV light. The UV-treatment enables the glue to construct tight bonds with the structure on the surface of the tissue.
"MeTro seems to remain stable over the period that wounds need to heal in demanding mechanical conditions and later it degrades without any sign of toxicity," explains Ali Khademhosseini, a Harvard Medical School Professor, who contributed to the development of MeTro. "It checks off all the boxes of a highly versatile and efficient surgical and staple-less application."
The glue is good for tending wounds because of its high elasticity. It restricts the wound from expanding or relaxing and eliminates the risk of the wound re-opening. Assistant Professor Nasim Annabi, from Northeastern University and also a developer of MeTro, led a study where the team successfully closed the wounds of rodent arteries and lungs, as well as the lungs of pigs using the glue. The MeTro team says that the surgical glue "could also prove valuable in treating internal wounds in places where bodily fluids ruin the effectiveness of more conventional sealants."
Researchers who helped fabricate MeTro, say it's feasible that the surgical glue could replace staples and sutures, which are more commonly used by doctors to seal wounds. Because the glue is fast acting, it could be used in war zones or other emergency sites. Additionally, the cost of the glue is significantly lower than common sutures. Although MeTro is still an expensive procedure, it is a viable alternative to stitches. It would also eliminate the often painful process of removing stitches.
[Source: Sciencealert.com]