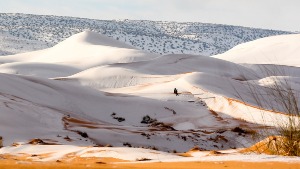 In early 2018 an unlikely visitor touched down in the Sahara Desert—a snowstorm.
The desert and its surrounding cities had not seen anything like it since 1979. This time, however, it had snowed two years in a row.
The average temperature is 100 degrees in the summer Sahara; however, it can drop to as low as the upper 30s during the winter.
Still, much of the odd weather is credited to the same Arctic blast that brought dangerous cold to the U.S. in late December 2017. The winds move west to east which eventually brought the air to North Africa.
The storm was fairly short, but seeing the hot desert sand covered in snow will be an experience remembered for the long years to come.
[Sources: BBC; The Washington Post]