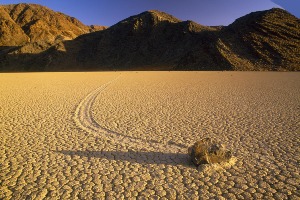 Death Valley is located between California and Nevada and is known to be the hottest, driest place in the world. Including its name, Death Valley is very unique compared to other national parks. One of the oddest features of this park are the sailing stones.
The sailing stones of Racetrack Playa are stones that appear to move by themselves. The rocks are made of dolomite and syenite, two different types of mineral. They tumble down from the surrounding mountains and when they reach the ground, they start to move horizontally. Though, one cannot see the movement of the stones, the conspicuous tracks they leave behind are evident enough to show that they have traveled across the desert.
In August 2014, scientists Richard D. Norris and his cousin James M. Norris figured out the "magic" behind the these sailing stones. First, it rains. The rain forms a small pond behind the rock that freezes overnight. By morning, most of the ice melts, leaving only a thin sheet. Later, the wind pushes the ice against the rock. After years, the rock slowly moves. In fact, it only moves a few inches every two years.
Even though a person cannot actually watch the rocks travel, they are still a wonderful sight to see. To find these stones, one can drive two miles south from the Grandstand parking area, then walk about half a mile to the south-east corner of the playa.
Of course there are people who vandalize this natural phenomenon. They move the rocks, drive on the trails, and even write on the rocks. If you do ever visit, please be mindful of the stones and this natural wonder.
[Sources: National Parks; EarthSky]