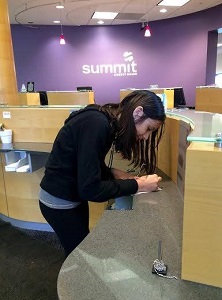 Did you know that you, yes you, can help own a credit union? I learned this the other day when I visited Summit Credit Union to open my very own account.
About four months ago, I began to work at Simpson Street Free Press. In the newsroom, I kept hearing the phrase "financial literacy." I didn't know what this meant, so I asked my editor Deidre. She said that a big part of the Free Press curriculum includes talking about and planning ahead for your future, including financially. This way, by the time you're ready to go to college, you have a way to afford it.
Overhearing our conversation, our director Jim Kramer asked if I have a bank account. After learning that I didn't, we decided that I would visit Summit Credit Union to open my own account and write about the experience.
Two weeks later, I made the trip to Summit's Rimrock Branch with my mom and SSFP editors Deidre and Mckenna. This Summit Branch is right in my neighborhood. Once there, we met up with Branch Manager Jessica Plourde and Financial Education Specialist Amy Crowe. I was so excited to open my account!
Jessica and Amy sat us down. And oh man, did I learn a lot. First, before I opened my account, I learned all about the differences between a bank and a credit union. While banks are owned by stockholders, credit unions are owned by their members. At the end of each year, if a credit union has made enough money, the union even pays its members small rewards.
I also learned about the differences between a checking and a savings account. With a savings account, you can deposit as much money as you have available and withdraw it as you wish. To keep your Summit Credit Union membership open, though, you have to keep at least five dollars in the account. Also, money in savings accounts gains compound interest. This means that your account builds on the money already in your account and accumulates additional money.
As Jessica said, "even as it just sits there…it really grows to be a lot more than you started with." Other benefits of a savings account include that the government insures your money and it's safer than keeping it at home in a piggy bank.
Contrasting a savings account, with a checking account, you can use your money by making transactions with a debit or credit card. Unlike with a credit card, with a debit card you can only withdraw money you already have in your account. Credit cards work by borrowing money that you haven't already made. You borrow this money from your credit union or bank and have to pay it back. Because of this, Jessica warned that while credit cards can be a good tool, they can also be dangerous.
After I learned the basics of banking, I was finally able to open my own account! I now have my very own debit card—it's red and has my future high school, Madison LaFollette, designs on it! At the end of the trip, I stopped at Summit's drive-through ATM to check my new balance. Though the balance is small now, with interest and smart planning, it will continue to grow.
If you're looking to open an account, or even if you just have questions about how to plan for your financial future, I'd definitely recommend swinging by Summit Credit Union's Rimrock Branch. The staff is so helpful and, like Jessica said, their goal is "to help you learn as much as possible." I'm so grateful for this experience and look forward to building my savings!