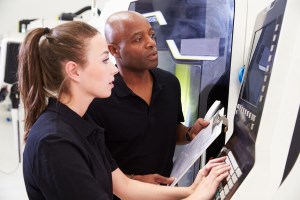 High school graduates looking for a trade career face a difficult decision: spend thousands of dollars on a college degree or seek jobs without the degree. Despite the fact that employers may expect a degree, there's still hope for those planing to forgo college. Apprenticeship programs are taking the nation by storm, and allow students to get an education while also gaining valuable experience.
However, the reality in today's job market is that young adults can no longer apply for many jobs without a college degree. There is an ongoing debate over whether employers value education more than experience. Companies like Siemens Energy and John Deere have made education available to their employees while also allowing them to accumulate work experience.
Dr. Anthony P. Carnevale is the director of the Center on Education and the Workforce at Georgetown University. His research has shows that 40 percent of middle-level trade jobs pay more than $55,000 a year, while 14 percent paying more than $80,000 annually. Because 21st century employers are demanding applicants with a higher level of trade skill, more students are recently reconsidering whether a college degree is necessary or not to seek these well-paying jobs.
Higher education comes in many forms; students may take the four-year bachelor's-degree path, or the trade school path. A bachelor's degree costs on average $154,000 whereas a trade school degree—programs that typically last two years—costs about $40,000. Further, because a student leaving school with a bachelor's degree may not have the experience to enter a specific field of work, one might lean towards a vocational school where he or she would save thousands of dollars and be taught skills for a specific job.
However, new research done by George D. Kuh of The Chronicle of Higher Education shows that students who work while attending college acquire "employer-preferred skills such as teamwork and time management."
So what is a young person selecting a future career to do? Programs and apprenticeships such as the ones offered by John Deere and Siemens are funded by the programs themselves and provide said young people an innovative answer. When Siemens Energy opened a gas turbine production plant in North Carolina, 10,000 people applied for 800 positions. Fewer than 15 percent of the applicants passed the exams geared towards a ninth-grade education. For this reason, some employers looking for applicants skilled in advanced math and problem-solving have begun to offer the required programs themselves.
For example, in 2011, Siemens implemented an apprenticeship program for seniors at local high schools. The program combined four years of training with an associate's degree in mechatronics from a nearby community college. Students in the program graduate without student loans and earn more than $50,000 a year. Similarly, John Deere designed a curriculum and donated farm equipment to several community colleges, who, in turn, trained students for field-work. Since the students are sponsored by a John Deere dealership, they work for half of the program: most graduate in two years with a job and starting salary of $40,000.
While higher education may help one reach success, sometimes the experience one can gain in the workplace can prove be just as critical in proving his or her skills to potential employers. Either way—whether pursuing a typical college path or employment in a trade education program—getting an education beyond high school opens the door to opportunities and careers.
[Sources: The New York Times ; Investopedia; Huffington Post ]