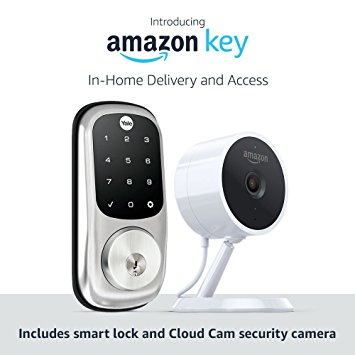 Recently, Amazon Inc., the world's largest online retailer, announced a new system that allows delivery workers to leave a package directly inside the house of an Amazon Prime member, instead of leaving it outside when the customer is not at home.
This service is called Amazon Key. For Amazon Key, a cloud-controlled camera and a smart lock are needed. The camera—made by Amazon—is called the Cloud Cam and sells for $120. Amazon offers a Cloud Cam and smart lock combo for $249.99.
The delivery person is required to knock on the door or ring the doorbell at the customer's house. If the door is not opened, the person can scan the barcode of the package and press an "Unlock" button on a mobile app. When the button is pressed, Amazon quickly checks the system to make sure that the right package is being delivered by the right person at the right door. If everything is correct, the customer's door unlocks. While the delivery is occurring, the customer can see it live on his or her smartphone. The delivery person can't continue on with other deliveries until the house is locked again.
The Amazon Key can also allow entry for other service professionals, like dog walkers or cleaners. It can even be used to let in visiting guests. Customers who have home security systems will have to disarm them on the day of delivery to allow access to the delivery person. Amazon does not recommend the Amazon Key system for customers with a pet that can reach the front door.
Amazon is not the only retailer experimenting with home-entry systems. In September, Walmart announced a system that allows a delivery person to place grocery items straight into the customer's fridge.
The Amazon Key will be available in 37 U.S. cities including Atlanta, Chicago, Indianapolis, Milwaukee, Minneapolis, and St. Paul. Whether people will use it is another matter. Michael Pachter, an analyst at Wedbush Securities, thinks not. "Consumers are unwilling to relinquish control of the door to a faceless, unknown delivery person." he said, "It's just creepy."
[Sources: Reuters; British Broadcasting Corporation (BBC); Walmart Today]